This is a longer article than usual, but please bare with me.   If you have skin troubles whether it be acne, eczema, psoriasis, or extremely dry skin with wrinkles, this article may be just for you.   I have used the products myself, along with our team at Alive and chains as well as our customers love it too.   They are clean, organic, not tested on animals and are what skin care should be.   I hope you can find a solution for your skin or for someone you may know.   You can find Clear 60 at Alive Health Centre, Morning Sun and Supplements Plus.
What makes Clear 60 Skin Care Different:
The Perfect Treatment to Soothe Troubled SkinClear 60 blends advanced, high performance clinically proven actives with 100% synthetic-free & organic ingredients, innovative first treatment formulas that bridge the gap between science & nature.   Our products have an exceptional level of bioavailability that outperforms synthetics without harsh side effects & functions in unison with the body's natural biological processes.
Clear 60 Ultra Gel: Wrinkles, Rashes, Psoriasis, Eczema, Acne and more
This is a REMARKABLE formula for people who are really suffering from
Our patent-pending, paraben and formaldehyde free preservation system features a nano-structured antimicrobial composite of comprehensively acknowledged components that provide broad spectrum activity on bacteria, yeast and molds.ULTRA GEL may help skin disorders by targeting the inflammatory cycle itself as well as the triggers. ULTRA GEL can be applied directly to Acne spots as well as Eczema, Rashes and inflamed skin conditions.The special structure of ULTRA GEL is composed of highly stable, dermal-compatible Nano-Crystals that easily penetrate into the deeper layers of the skin. Our beneficial Nano-Crystal delivery system is implanted within a natural polymer that mimics collagen and promotes effective transfer rates that make it a powerful Anti-Inflammatory. Formulated to help eliminate irritants that trigger breakouts and control swelling and redness. May be Help With:Acne, Cold Sores, Sunburn, Rough Hands, Dry and Scaly Skin, Psoriasis, Skin Rash, Shingles, Eczema,Burns, Scars, Athlete's Foot, Cracked Feet, Fungal Infections.
IMPORTANT, this formula is VERY clean and this is why Alive Health Centre, Morning Sun and Supplements Plus are so
happy to carry this fantastic product:
WHAT IT IS FORMULATED WITHOUT:
-DISODIUM PEG
-12 DIMETHICONE SULFOSUCCINATE
-BENZOYL PEROXIDE
-PARABENS-PROPYLENE GLYCOL
-SULFATES
-SYNTHETIC DYES
-PETRO-CHEMICALS
-PHTHALATES
-TRICLOSAN
-TRIETHANOLAMINE
Clear 60 Intense Rejuvenate Formula – Powerful Overnight Ammunition against Wrinkles
Our PREMIUM Night Lotion with powerful, overnight ammunition against wrinkles that regenerates and smooths. Loaded with copious amounts of skin rejuvenating   vitamins, minerals, and other biologically active components such as Hyaluronic Acid, Resveratrol, Argan Oil, Sea Buckthorn Oil, DMAE, Co-Enzyme Q10, Vitamins A, E, and K1, Squalene, Omega 6 and 9, MSM, Oleic and Linoleic acid, our exclusive formula helps optimize the synthesis of natural skin fillers so that skin appears softer, luminous and refreshed. Aids in cell regeneration while forming a protective barrier against further environmental damage and dryness. Visibly reduces wrinkles and firms skin. When you awaken, your features look rested and skin is visibly firmer.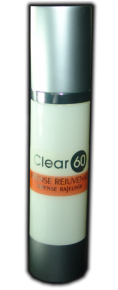 Testimonial: ""This is from me Shannon Chung and I am the writter for the Alive Health Blog, I wanted to share my experience with this product.   This winter in particular, my skin has become beyond dry.   I have been keeping hyrdated, I have been taking fish oil, eating well and basically taking care of myself.   BUT my skin was telling a different story.   One thing Alice Chung (the owner of Alive Health Centre and Chains) ALWAYS says:  "We often lie to ourselves because we want to believe that we are doing all the right things, BUT our body does not lie."   If you have redness, break outs or  eczema these are ALL signs of inflammation and that your body is hot and upset.   My skin  was not as severe as the   Ultra Gel photo above, but I had redness, itchiness, tiny little bumps all over my face but particularly on my forehead and on my hands.   I couldn't tell if it was eczema breaking out on my hands, or an allergy.   Basically my skin became extremely sensitive and dry.   SO I made sure I stayed away from anything deep fried, I stayed away from shellfish as they can cause inflammation, I kept my regime simple using only an Organic mild milk cleanser and Clear 60 Intense Rejuvenate.   It is more for night time, but I used it in the morning, night and even throughout the day especially on the problem areas such as my hands and my forehead.   I noticed right away that my skin was soothed, there was no more itchiness or irritation.   The next day the bumps were coming down.   It has now been a week and the REDNESS is GONE the bumps are gone, my hands are almost 100% back to normal.   There are faint tiny scabs on my hands, but they are pretty well healed.   I am  a very fare skinned Irish gal with  sensitive skin, so the products I use have to be the best.   I LOVE this product and I love what  the Ultra Gel has done for our customers.   I am excited to try the Clear 60 Ultra Firming.""  
Clear 60 Ultra Firming for Day Time with Hyaluronic Acid
Our PREMIUM Day Lotion offers EXCEPTIONAL Refirming   and Anti-Wrinkle action. Designed to absorb into the skin quickly while moisturizing, replenishing and naturally boosting your skin's firmness to visibly improve it's elasticity and tone. It may also strengthen your skin to make it look tighter and more resilient. Regenerated and soothed, the skin becomes visibly smoother, firmer, more luminous and visibly younger. Absolute comfort with a incredibly velvety finish.
Main Uses and Benefits:
-Excellent base for make up
-Anti-Aging Anti-Oxidant grapevine Resveratrol
-Anti-Wrinkle Hyaluronic Acid
-Best used during the day
For more information you can check out all the different products here:
http://www.epic-cosmetics.com/products.htm
As always, we hope that you will come and visit us at either Alive Health Centre, Morning Sun or Supplements Plus. Do not sit in silence; there are so many things you can do to better your health! Get excited and take charge of your health. Let's work together, along with your doctor to ensure you are doing all you can to lead a happy and healthy life. Our team looks forward to helping you with what ever your health concerns are.
Also, if there is not a location near you, we do MAIL ORDERS call us toll free at 1 866 499 9546