The Whole Body Antioxidant ®
PhytoBerry is a highly concentrated berry based whole food supplement that is loaded with natural antioxidants. Featuring over 40 high ORAC value fruit concentrates, phytonutrients, essential fatty acids and herbal extracts, PhytoBerry is specifically designed to offer whole body antioxidant ® protection. A single serving has the equivalent nutrient content of 6 to 8 servings of fresh fruit.
Available In:
Format: Powder
Sizes: 450g (30 day) & 900g (60 day)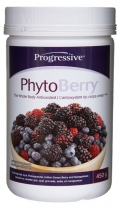 Features:
Highly concentrated whole food supplement
Over 40 ORAC rich food concentrates, phytonutrients and essential fatty acids
ORAC score of ~5000 units
Nutrient equivalent of 6 – 8 servings of fresh fruit
Outstanding source of botanical nutrients
Professionally formulated and energetically balanced
Benefits:
Whole Body Antioxidant ® protection
Helps to slow the aging process
Supports liver function
Strengthens immune function
Boosts energy levels
Supports cardiovascular health
Stimulates and enhances brain function
Promotes mental clarity
Protects eye health
Balances blood sugar
Improves digestive function
Helps alleviate allergies
What is ORAC?
The latest scientific standard for measuring the antioxidant properties of food is in ORAC (Oxygen Radical Absorbance Capacity) units. ORAC measures the total antioxidant capacity of a food or nutrient and can help us to understand its antioxidant strength. For example, a serving of PhytoBerry has an approximate ORAC score of 5,000 units. While in general terms the higher the ORAC score the greater the protection, ORAC only tells part of the story.
You also have to understand that our individual organs and internal systems have unique antioxidant requirements. Often times an organ is best protected by a botanical nutrient that may have a modest ORAC score. A higher ORAC nutrient that is less supportive of that organ may have a higher score but will not be able to offer the same level of protection. PhytoBerry does have an exceptional ORAC score, but its primary focus is to offer whole body antioxidantprotection by using a harmonized and synergistic combination of nutrients that, in concert, target and protect each organ and key body system.
Testimonial, writing to Progressive about PhytoBerry and VegeGreens:
"Thank you guys for making one of the greatest supplements, if not the greatest supplement I've ever seen on the planet. PhytoBerry and VegeGreens are like a gift from the Heavens in a container. There's so much in it and it's been tested and everything, it's great. I didn't even pay attention to what an ORAC value was until I bought your products. I just ordered two more 900g containers of PhytoBerry. I take the stuff every day since I bought it, and I mix it with frozen berries and whey powder and make the greatest smoothies anybody ever made with it. Thank you a million times over!"
As always, we hope that you will come and visit us at either Alive Health Centre, Morning Sun or Supplements Plus. Do not sit in silence; there are so many things you can do to better your health! Get excited and take charge of your health. Let's work together, along with your doctor to ensure you are doing all you can to lead a happy and healthy life. Our team looks forward to helping you with what ever your health concerns are.
Also, if there is not a location near you, we do MAIL ORDERS call us toll free at 1 866 499 9546