Hero Yummi Bears ® Gummy Multivitamins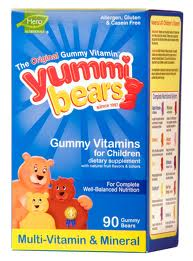 Full Spectrum Of Daily Vitamin + Mineral for Children
We have many parents coming into Alive Health Centre, Morning Sun and Supplements Plus who are looking for a good multivitamin for their kids.   Even when you kids are eating well, it is challenging to ALWAYS make sure they are getting all their vitamins and minerals.   Below is all about Yummy Bears Gummy Multi-Vitamins.
You want the BEST for your kids… superb nutrition being at the top of parents list. Sometimes it is very difficult to get all the recommended daily value of Vitamins and Minerals due to our fussy little eaters.   Hero's Yummi Bears are good for your kids and they TASTE GREAT too!  They are Gluten, Casein & Allergen Free. All Natural Fruit Flavours & Colours. Yummi Bears ® gummy vitamins are made with premium ingredients that are scientifically formulated with a child's growth and development in mind. Yummi Bears ® provide optimal nutritional support for your little one naturally.   At our stores, we have countless customers raving about these multivitamins!!
As always, we hope that you will come and visit us at either Alive Health Centre, Morning Sun or Supplements Plus. Do not sit in silence; there are so many things you can do to better your health! Get excited and take charge of your health. Let's work together, along with your doctor to ensure you are doing all you can to lead a happy and healthy life. Our team looks forward to helping you with what ever your health concerns are.
Also, if there is not a location near you, we do MAIL ORDERS call us toll free at 1 866 499 9546