A healthy and happy baby makes for a super happy and stress free mom.   This post is all about giving your baby the best chance at keeping their health optimal.   Today I want to share with you a way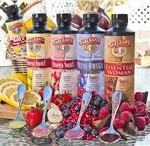 to supercharge your babies rice cereal.   Please note, before using these products consult your health care practitioner first.   Every baby is unique and not one shoe fits all.   Some babies are very sensitive and  have allergies.   However, the goal with this rice cereal is that you will be preventing your baby from having to ever deal with allergies in the first place.   This super rice cereal formula helps to prevent inflammation, digestive discomfort, gas and bloating.
Let's start with the rice cereal first.   I like the Healthy Times Rice cereal.   It is organic and they have many different ones to choose from.   There  are many  different grains to choose from  and there is no sugar.
Once you   have your rice cereal, you can mix your rice cereal with either breast milk, formula, regular milk or just water.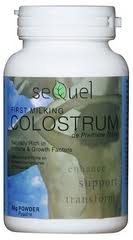 Tip: I get many mothers who ask me what to do about their childs constipation.   There are many causes of constipation, but one small change that often helps significantly is to make the rice cereal as runny as possible.   This way they are getting as much water in as possible.   Water is an excellent natural way to help ease your childs bowel movements with out the harsh benefits of laxitives.   Also keep in mind that the Renew Life Flora Baby probiotics are preventing your child from digestive complaints and constipation and the fish oil from Barlean's will also be preventing constipation as well.
The rest is easy!   Now that you have your rice cereal mixed, simply add just a pinch of Sequel Naturals ChlorEssence.   This one you want to be very careful.   While chlorella is wonderful and is full of nourishment, a baby just needs a pinch.   Natural is good, but too much natural is not better.   Then you add in a pinch of colostrum.   This will help your baby continue to build a strong immune system, maintain healthy skin avoiding eczema and other annoying skin conditions.   Then add in a pinch of Renew Life Flora Baby probiotics.   Remember PRO Biotics are the opposite of ANTI Biotics.   The antibiotics that doctors give out are the absolute last resort when your body is not able to  fight off the bacteria that is creating an illness in your body.   To prevent having to ever take antibiotics in the first place, take the healthy bacteria that helps keep your body in balance and that is the PRO Biotics GOOD bacteria.   This is what is goinh to build your babies foundation.   Probiotics are lining the digestive tract and the stomach making their little bodies strong to fend off invaders that they pick up from other kids at day care or school.   Next you put in the yummy Barlean's Omega Swirl fish oil.   This is the icing on the cake.   Again there is NO sugar in these fish oils.   Fish oils are so important for health cognitive development, to prevent constipation, for happy moods, to prevent ADHD and to keep healthy soft skin.   Fish oils are all about reducing inflammation.
Rice Cereal Recipe For Your Baby 6months to 1 year: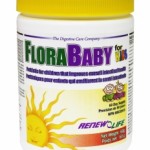 Generally speaking it is suggested that solids should be introduced at 6 months and there after.   The reason for not introducing earlier is due to the fact that most babies have not developed all of their digestive enzymes to break down solids porperly.   However, you should talk to your health care practitioner.   Sometimes babies are put on solids earlier because they are under weight or for other reasons.
After your baby is one year old you can begin to up the doses.   Follow the instructions on the product.   Also, some of the products are not specifically for babies and therefore there is nothing written on the label for dosages.   This is  because   health Canada has not approved the product for infants.   That is why again it is best to talk to your health care practitioner before introducing these sorts of things.   Be an informed parent.   Not all supplements are good.   Not all brands are the best for your baby.   It is important to be informed ask questions and know what you are putting in your babies little body.
As always, we hope that you will come and visit us at either Alive Health Centre, Morning Sun or Supplements Plus. Do not sit in silence; there are so many things you can do to better your health! Get excited and take charge of your health. Let's work together, along with your doctor to ensure you are doing all you can to lead a happy and healthy life. Our team looks forward to helping you with what ever your health concerns are.
Also, if there is not a location near you, we do MAIL ORDERS call us toll free at 1 866 499 9546