Prairie Naturals is doing everything they can to help people maintain a healthy weight for life.   They have a program called 8 weeks to wellness and it is very easy to follow.   All you have to do  is want to help yourself and  show some commitment.   The program is so successful because it covers all your bases.   It helps to cleanse your body, nourish your body and strengthen your body.     Maintaining a healthy weight is next to impossible with imbalances in nutrition, low energy and most importantly with out a plan!   Prairie Naturals is here to help you plan your way to success!
Let's start with Cleansing: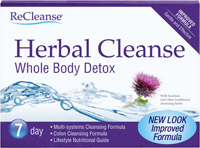 Safe, Effective 7-Day Whole Body Detoxification
Supported by clinical use, ReCleanse ® Herbal Cleanse has been formulated to gently and effectively support your body's natural detoxifying and elimination process. ReCleanse ® Herbal Cleanse products gently cleanse deeper each time and with regular use, enables your body to heal and function optimally. With ReCleanse ® Herbal Cleanse – you'll feel better and better and better.
Putting Your Body in Balance:
Your Natural Prescription for Healthy pH!
Formulated by Holistic Pharmacist RoseMarie Pierce (B.Sc. Pharm.), Morning Rise & Shineâ"¢ is a natural Body pH Balancer. This highly-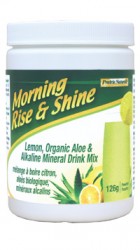 absorbable mineral-enhanced, all- natural lemon & aloe drink gently balances internal body pH and promotes an alkaline environment. Keeping the body's pH in balance helps to create the optimal internal environment for overall good health. Recent studies have shown that maintaining a balanced internal pH can improve immune health, reduce inflammation, prevent degenerative disease and promote bone health. Daily use of Morning Rise & Shineâ"¢ detoxifies and rejuvenates cells and organs. It also effectively increases energy levels, boosts athletic endurance and improves mental acuity. Pleasant-tasting Morning Rise & Shineâ"¢ instant drink mix can be used any time of the day – hot or cold – and is great for people of all ages! Alkalizes * Cleanses * Energizes. 100% VEGAN. Gluten-free.
Sizes: 126 grams & 252 grams & Individual serving pouches
Strengthen Your Body With Prairie Naturals  Protein! Below is a write up on the whey protein, but Prairie Naturals has thought of everyone.   They have: Hemp, Rice, Whey and Soy!   Something for everyone.
Organic Whey Proteinâ"¢ from Prairie Naturals is one of the purest whey proteins available. Naturally derived from organic fresh milk, Organic Whey Proteinâ"¢ is micro ultra-filtered (for better absorption) and concentrated, without the use of high heat or acid treatments which can denature and damage protein molecules. Our Organic Whey Proteinâ"¢ has absolutely no sugar, artificial flavours or colours. Neither does it contain the high levels of fat or cholesterol found in many other protein sources such as eggs, cheese and meat.
Prairie Naturals Organic Whey Proteinâ"¢ is:
â–ª Delicious and versatile for protein shakes â–ª Very low in fat, carbohydrates and lactose â–ª Used to build strength and muscularity â–ª Effective for supporting weight loss â–ª A stabilizing factor for blood sugar levels â–ª A support for encouraging fat loss â–ª For people of all ages and activity levels â–ª A quick "pick-me-up" or high protein meal
As always, we hope that you will come and visit us at either Alive Health Centre, Morning Sun or Supplements Plus. Do not sit in silence; there are so many things you can do to better your health! Get excited and take charge of your health. Let's work together, to ensure you are doing all you can to lead a happy and healthy life. Our team looks forward to helping you with what ever your health concerns are.
Also, if there is not a location near you, we do mail orders call us toll free at 1 866 499 9546