Just wanted to share with you a fabulous product for your little ones.   Probiotics are not just for you, but even your baby…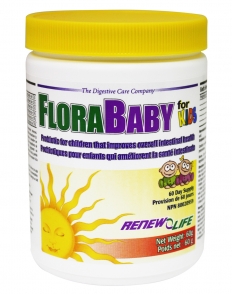 FloraBABY is a blend of probiotics (good bacteria) that is specifically formulated for the intestinal tract and colon of children. It is a no flavour powder which can easily be mixed into warm or cool drinks such as infant formula, water, juice and milk, or soft foods such as yogurt and apple sauce. This allows parents to provide probiotics to children who do not like or have a difficult time taking supplements. Please note that it should not be mixed with hot liquids or hot foods.
FloraBABY is a blend of 5 strains of probiotics normally found in children: Bifidobacterium Breve, Lactobacillus Rhamnosus, Bifidobacterium Bifidum, Bifidobacterium Infantis and Bifidobacterium Longum. These 5 probiotics work synergistically to help ensure a healthy microbacterial environment in the intestinal tract of children.
The term 'probiotic' means supporting life. Probiotics are friendly, beneficial bacteria. These bacteria are normal inhabitants of the large and small intestines and are an important part of a healthy digestive system. Recent research shows that probiotics help improve gastrointestinal function, respiratory and allergy response, as well as help to counter the negative effects of antibiotic use. Further, these beneficial bacteria help the body to 1) produce vitamins, 2) absorb nutrients, and 3) control overgrowth of bad bacteria and fungus.
As always, we hope that you will come and visit us at either Alive Health Centre, Morning Sun or Supplements Plus. Do not sit in silence; there are so many things you can do to better your health! Get excited and take charge of your health. Let's work together, along with your doctor to ensure you are doing all you can to lead a happy and healthy life. Our team looks forward to helping you with what ever your health concerns are.
Also, if there is not a location near you, we do MAIL ORDERS call us toll free at 1 866 499 9546