Recently, Angela Sasso (Vancouver Personal Fitness Trainer)  launched her
Weight Loss Cook book
and I wanted to provide more information and background on her experience.   Hope you enjoy the read!
About angelasassofitness
My passion for fitness began over 15 years ago when I was struggling with weight & health issues most of my adolescent life. I remember when I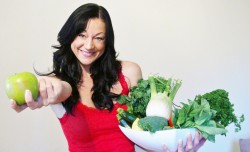 reached over 185lbs, I had had enough, & had to make some big changes!! I trained myself and lost 50lbs…mind you, it took nearly 4 years to do it because I had no idea what I was doing at the time, but I was committed & I was gonna do it.   I embraced Fitness wholeheartedly from moment on. After I had lost 30 lbs or so, I decided to take a Mixed Martial Arts class at a local gym, it was something I had always wanted to do and finally, I was ready. I loved it and dedicated the next 10 years to training full time Mixed Martial Arts. My   broad spectrum of MMA training included Bruce Lee's Jeet Kune Do, Filipino Kali, and Brazilian Jiu Jitsu. It was intense training that included Boxing, Thai Kickboxing, kali weapons, brazilian Jiu Jitsu, as well as Wing Chun. I became an instructor and coach and have taught privately and in group sessions.   "Attaining a Blue Belt in Brazilian Jiu Jitsu and training with Royler Gracie were inspiring moments." Philosophy I experienced from Martial Arts that disipline, focus, and attention is critical to results. Training for me is mental, and aesthetics is what happens after, it's a side effect of dedication. So if you have an hour, a half hour, 2-4 times a week, to exercise, be dedicated and committed to that time, and I guarantee you will get results!"Martial Arts has laid an awesome foundation for me on many levels and I enjoy being able to pass that on to my clients in a way that fits them & their individual goals. Translating the training principles of discipline, focus, and self awareness to an enhanced level of fitness."Featured in Shape Magazine April 2011 Featured in OXYGEN FITNESS MAGAZINE June & October 2009 Placed 5th in Fitness Figure @ Sandra Wickham Fall Classic 2009 Certificate in Natural Health/ Alive Academy of Natural Health
Recently, Angela Sasso launched her
Weight Loss Cook book
and I wanted to provide more information and background on her experience.   Hope you enjoy the read!
As always, we hope that you will come and visit us at either Alive Health Centre, Morning Sun or Supplements Plus. Do not sit in silence; there are so many things you can do to better your health! Get excited and take charge of your health. Let's work together, along with your doctor to ensure you are doing all you can to lead a happy and healthy life. Our team looks forward to helping you with what ever your health concerns are.
Also, if there is not a location near you, we do MAIL ORDERS call us toll free at 1 866 499 9546