At Alive Health Centre, Morning Sun and Supplements Plus, our Spring Flyer Sale has a couple more days left.   Below is the flyer write up for Udo's Oil 3-6-9 .
Udo's Oil 3 6 9 – Think you don't need to supplement with Omega 3's? Think again…Omega-3 consumption has decreased to one sixth the level found in our food supply in the 1850s.
Of all the essential nutrients, essential fats are by far the most abused because they are perishable, chemically unstable foods. Almost all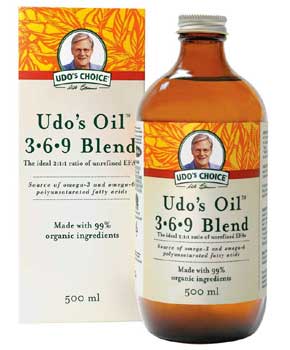 supermarket oils, including the oils used in processed foods, have been damaged by destructive processing techniques, including refining, bleaching, overheating, and/or partial hydrogenation (a process which produces deadly trans fats). Deficiency leads to deterioration of every cell, tissue, gland, organ and organ system. Udo's Choice Oil Blend is compatible with all foods Favourite uses are in salads, protein shakes, yogurt, juices, soups, on steamed vegetables, rice, and pastas, and with balsamic vinegar for dipping. The Perfected Oil Blend includes oils from fresh flax, sesame and sunflower seeds, as well as oils from evening primrose, rice germ and oat germ. This blend is rich in GMO-free lecithin, which provides the building materials for healthy cell membranes. Udo's includes organic coconut oil, which contains MCTs with powerful antimicrobial effects, and powerful antioxidants. Vitamin E and rosemary oil, both potent antioxidants, are added to increase freshness and to act as scavengers of free radical molecules in the body.  Nothing is left to chance with Udo's, treat your body right with this fantastic product.
As always, we hope that you will come and visit us at either Alive Health Centre, Morning Sun or Supplements Plus. Do not sit in silence; there are so many things you can do to better your health! Get excited and take charge of your health. Let's work together, along with your doctor to ensure you are doing all you can to lead a happy and healthy life. Our team looks forward to helping you with what ever your health concerns are.
Also, if there is not a location near you, we do MAIL ORDERS call us toll free at 1 866 499 9546