You may remember the name
Angela Sasso from a few posts
.  Just a reminder that
Angela is a personal trainer in Vancouver that has helped numerous people achieve not only their weight loss goals, but she has managed to completely change peoples lives due to feeling like a new person. 
Angela is not just about losing weight, but also nourishing the body to run efficiently.  Below is a letter she has written to all of you about her
NEW Cook Book Weight Loss Program
.  I realize that there are thousands out there and you may feel like you have tried them all, but when I saw hers, I got excited because it is unique! She has designed this is such a way that EVERYONE can do it, and everyone can follow it.  As an example, Angela has nt just given you a bunch of recipes that say day one, eat this, day two eat that, she also has broken down for you your grocery shopping list so you know what you need to purchase.  Everything is layed out and made easy for even the most busy person you know.  I am on the same page as Angela, we want to see the world become a healthier place.  Take charge of your health!  Here is what Angela has to say…
Hi Everybody!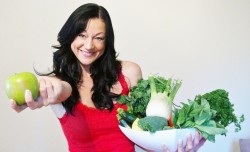 I am so excited as I have mentioned to many of you that I have always wanted to write a cook book that is healthy and helpful for weight loss! Well I am happy to say …I did it!
During so many of our sessions, and through email, and text messaging, we talk about food, and what the best diet is for weight loss…I try my best to give you the healthiest choices for the best results, but because the information comes in bits here and there it is sometimes difficult to retain the information. This menu plan is designed to compliment your training with me and accelerate your results, with 144 pages of recipes, nutritional tips, plus bonus workouts! I have included many pictures in these books as well!!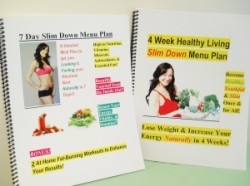 The 4 Week Healthy Living Slim Down Menu Plan

is 119 pages, and contains over 100+ recipes! This is a detailed meal-by-meal menu plan that you can follow for the 4 week duration or you can pick and choose recipes as you see fit! Also, all the recipes
take 10-35 minutes to prepare! In addition, throughout the book there is nutritional information on the health benefits of many of the foods, PLUS a list of my Top 5 Weight Loss Food Supplements, and of course, a grocery list!
Bonus!

there is a separate book included…7 Day Slim Down Menu Plan this menu plan is also a detailed strict, yet healthy, diet to get you looking and feeling your absolute best for a special occasion, vacation, or upcoming event! This book is 25 pages & it includes over 20+ recipes!!
Bonus! In this book I've included 2 At Home Fat Burning Workouts to Enhance your Weight Loss Results!!
Attached is a couple of sample pics of segments from both books!
I am certain that once you complete the 5 weeks you will have healthful tools & information that you will have for yourself always!
"Helping people lose weight & feel great!"