Greens + Instant Smoothie is one of my favourite products.   It is important to get in your daily greens and most people are extremely busy and need to rely on supplementation, but before just picking any greens, make sure it is of excellent quality such as Genuine Health brand.
Greens + Instant Smoothie  is creamy, delicious and easy way to increase your energy and vitality: Just one scoop gives you a full serving of greens+, enhanced with all-natural protein and fruit-flavour.   Simply add to water or juice for the healthiest, all-natural and only research-proven green food smoothie – no blender required. With just 100 calories, enjoy greens+ Instant Smoothie a day as part of a healthy breakfast or snack on-the-go.
Benefits of taking greens+ Instant Smoothie a day include: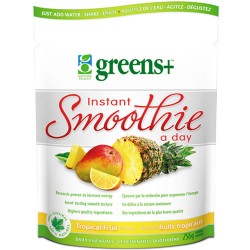 • Contains a full serving of phytonutrient and antioxidant-rich greens+ that's research-proven to increase energy and vitality
• Includes 15.25 grams of whey protein concentrate to provide a fantastic texture in a healthy way
• Creamy, delicious taste with all-natural fruit flavour
• Easy and convenient with no blender required
• Re-sealable pouch is portable, environmentally friendly and locks-in freshness
As always, we hope that you will come and visit us at either Alive Health Centre, Morning Sun or Supplements Plus. Do not sit in silence; there are so many things you can do to better your health! Get excited and take charge of your health. Let's work together, along with your doctor to ensure you are doing all you can to lead a happy and healthy life. Our team looks forward to helping you with what ever your health concerns are.
Also, if there is not a location near you, we do mail orders call us toll free at 1 866 499 9546