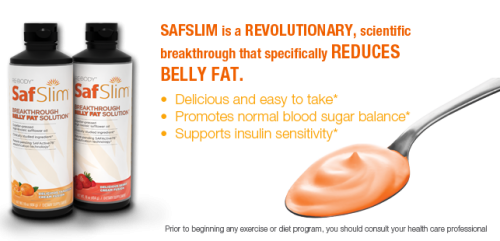 Its time to say good riddance to that stubborn belly fat.   Now with SafSlim you can make your New Years resolution reality.   SafSlim is backed by cutting edge research that is helping countless people lose their belly fat.   It's delicious and easy to take, no pills, promotes normal blood sugar, curbs your appetite and supports insulin sensitivty.   SafSlim is one of those products that is hard to write about because it almost seems to good to be true.   Honestly, SafSlim is truly amazing; even Dr. Oz was talking about it this past week.   As always we always recommend at Alive Health Centre and chains that taking a supplement is key to get the ball rolling, however it is  crucial to incorporate a  healthy lifestyle in conjunction with your supplement routine.   Therefore, exercise and proper eating habbits are still key!
SafSlim is in the flyer until January 31st 2012.   Below is the write up that is in the flyer.
Can't stomach carrying around that unsightly, health threatening belly fat  ?   Experts agree that omentum fat is the most dangerous because it is sneaky as it inserts itself around our vital organs such as the heart.   Belly fat is comprised of visceral or omentum fat.   This fat is different from subcutaneous fat (the fat you can pinch) – it lies underneath and acts as a storage facility for our fat  ! SafSlim works by activating GOOD hormones such as adiponectin which helps mobilize dorment midsection fat.   It also helps curb appetite, kick start the metabolism and improve insulin sensitivity to inhibit belly fat accumulation.   It uses a special blend of NON GMO high linoleic safflower oil which has been shown to help reduce belly fat by up to 9.4% in only 16 weeks without diet or exercise  !   This is your ticket to ridding yourself from belly fat  !
Until January 31st 2012 $36.99! Buy 4 and get an additional 5% off the sale price.
How SafSlim Gets Rid of Belly Fat
SafSlimâ"¢ is powered by SAFActive78â"¢, a proprietary blend of safflower oil. As demonstrated in the Ohio State University study, safflower oil is superior in attacking belly fat.
SafSlim is the first-ever solution to target the root causes of unsightly and health-threatening omentum fat, the fat that accumulates in the belly region
This patent-pending natural belly fat solution features a special blend of non-GMO, high-linoleic safflower oil
Safflower oil has been shown in a major university study to help reduce belly fat by up to 9.4%, or 6 times more than the leading omega oil, in only 16 weeks without diet or exercise
Emulsified and "body-ready" for maximum absorption, SafSlim is whipped into a delicious creamy texture that's fun to take
SafSlim is all-natural and free of artificial flavors, sweeteners and colors
SafSlim may help curb appetite, jump-start metabolism and improve insulin sensitivity to inhibit belly fat accumulation.
For additional information here are some studies on high-linoleic safflower oil's effects on reducing belly fat.
As always thank you for reading!   We look forward to helping you at a location near you with what ever your health concerns may be.
Also, if there is not a location near you and you have questions or would like to do a mail order you can call us toll free at 1 866-499-9546
Happy New Year!