At Alive Health Centre, Morning Sun and Supplements Plus, we are always creating awareness on the importance of supplementing with a high quality protein powder.   Protein holds you together!   Protein helps your metabolism, maintain healthy muscle, keeps your hair strong and healthy and much much more…
Today there is a quick article on Lean Whey Protein by Prairie Naturals. This is the protein powder that is for the whole family!   It tastes great, mixes instantly in water, can be added to smoothies / recipes if desired and most importantly is of high quality.
BENEFITS: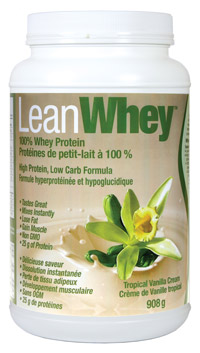 â–ª No Trans Fat, Low Carb
â–ª Burn Fat, Boost Energy
â–ª Increase Lean Muscle Mass
â–ª Reduce Appetite
â–ª Tastes Great, Sugar Free
â–ª High Quality Protein
LEAN WHEYâ"¢ Protein Powder
Get lean and stay lean with LEAN WHEYâ"¢!   This high quality, easily digested protein powder from Prairie Naturals promotes fat loss and increases lean muscle mass. A proprietary blend of pure, micro ultra-filtered, low- temperature process high quality whey proteins, LEAN WHEYâ"¢ is sugar-free and super low calorie.   It is sweetened with xylitol and stevia, which are excellent "good for you" sweeteners with no calories.   Xylitol is actually recommended by dentists as it is excellent for gum health.
Basically you cannot go wrong with the all natural Lean Whey Protein Powder by Prairie Naturals. There are no artificial flavours, sweeteners or colours. Mixes instantly and tastes great. No Bovine Growth Hormone. Available in several delicious flavours including Chocolate Supreme, French Vanilla Cream, Blueberry Cream, Raspberry-Strawberry Swirl, Pina Colada, Natural   (Unflavoured).
As always thank you for reading!   We look forward to helping you at an Alive health Centre, Morning Sun or Supplements Plus location near you!   Remember we do mail orders as well, you can call us Toll FREE at 1866-499-9546