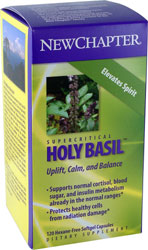 Here is a quick tip of something you can use to help ease your stress levels… Holy Basil…
Do you want to wake up feeling refreshed, and uplifted?Holy Basil is here to help you get through your busy day while feeling relaxed! New Chapters Holy Basil is known for their high quality care that they take in preserving the herbs in their complete complex form. Holy Basil maintains the Phytonutrients and active molecules: Caryophyllene, Ursolic Acid, Rosemarinic Acid, Eugenol and Oleanolic Acid known to: reduce stress, balance blood sugar, support healthy metabolism, restore adrenal balance, reduce free radical damage, and increase physical and emotional endurance! Stop succumbing to stress; enjoy your life with Holy Basil!
Suggested Dosage:
2 capsules a day, can be taken anytime.
|   |   |   |
| --- | --- | --- |
| Holy Basil (Ocimum sanctum) (leaf) (minimum 2% ursolic acid) | 800  mg |   |
Other ingredient:Modified cellulose (capsule) and maltodextrin.
Naturally gluten free.   100% vegetarian; no artificial flavors or colors.
Side Effects or Caution:
As with any dietary or herbal supplement, you should advise your healthcare practitioner of the use of this product. If you are nursing, pregnant, or considering pregnancy, you should consult your healthcare practitioner prior to using this product.
As always thank you for reading and we look forward to seeing you at a location near you, either Alive Health Centre, Morning Sun or Supplements Plus!