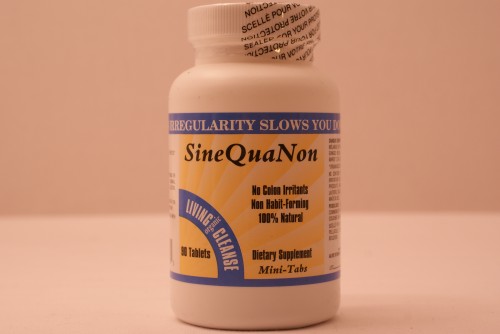 Looking for an alternative way to eliminate your colon?   Many people are faced with constipation, or irregularity.   It is important to  take enzymes and probiotics daily  to help along a sluggish digestive system, but sometimes we need a little more help.   Sometimes we are irregular due to travelling, stress, or a sudden change in diet.   Whatever the reason, Sine Qua Non is a fantastic formula that is easy on the colon, is non habit forming, but will get the relief you need.
Ingredients:
Aloe vera
Aged garlic
Gingko
Milk thistle
It is important to note that there are NO laxatives, and this is what makes this product non habit forming and also it will not irritate the colon.   No more cramping and discomfort!
Quick List Of Benefits:
Relieves constipation
NON habit forming
Supports weight control
Helps with travelling and time differences
Keeps you regular
Detoxes the liver
All ORGANIC ingredients!
As always, thank you for reading and we look forward to helping you with whatever your health concerns are.   Don't forget our lowest prices of the year are in effect until October 21st!   See you soon!