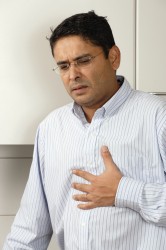 Intestinal  problems are so prevalent these days and often times people  have no idea  what to do about it.   Customers that come into  the store to  discuss their discomfort of constipation, gas, bloating amoung other intestinal complaints have  been living this way for years!   Most people feel that it is just something that happens to everyone at some point.   Other people feel like it will pass eventually and that is no big deal.   The fact is, when your body feels sluggish in the digestion process, you can be doing much harm to your body.   The feeling of gas after every meal, acid reflex,  bloating  and irregular bowel movements is not supposed to be the norm, and there are a few things you can do to help yourself.
 Signs of Poor Digestion At A Glance:
Acid Reflex
Bloating
Foul smelling gas
Bad breath
Constipation
Grogginess
Narrow, runny, or hard stools
Yeast infections
Acne
Healthy digestion starts at the mouth and goes all the way to the colon.   Remember a Happy Colon truly does equal a Happy Life.
First Step:
Listen to your body… literally.   After a BBQ with a nice juicy piece of steak ask yourself if you feel bloated and uncomfortable.   Do the same after you eat dairy, simple carbohydrates, foods with gluten etc.   SIMPLE TIPS: Remember to control your portions, chew your food properly, drink less water during the meal, this washes away your naturally occuring digestive enzymes.   Drink your water throughout the day, don't use your glass of water during the meal to wash down your food.   Many of us are guilty of this because we simply do not have the time to eat properly.   Take this first step seriously and for a couple of weeks keep a simple journal of what feels good after you eat and what does not.  
Second Step:
So you are eating healthly, but you may have done some damage in the past with poor food choices.   Now that you are doing your best to eat a balanced diet, there are some products that will be of help to you and they are:
Digestive Enzymes: BRAND – Renew Life, New Roots
Fish Oil: BRAND – Nordic Naturals, Alive Brand, Nutra Sea (there are many but ask us to help you find one that is best for you).
Probiotics (Good Bacteria): BRAND – Renew Life, Flora
Cleanse/Detox: BRAND – Renew Life, Wild Rose (with a cleanse there are many to choose from, again let us help you in store to find one that is best suitable for you.   For example, there are ones for people who have never done a cleans before, there are some that are designed for those who have Candida, Irritable Bowel Syndrome and other specific digestive problems)
There are other products that are excellent, but this is a great start for the average person.   Again we would be glad to tweak a program that is tailored to you and your needs.   A cleanse is very essential.   One of the biggest reasons is that a good cleanse will have a whole list of foods to eat while on a cleanse.   While some people say that they do not want a MEAL PLAN, they soon realize that it is more about giving you MEAL IDEAS!   We can all use a little help on what to eat.   Most people thinnk they are eating healthy, and they may be to some degree, but a cleanse really helps you to eat a clean diet.   Cleanses are not suppose to starve you. the ones recommended above allow  you to eat, but they assist you on making healthy food choices.   Most customers come back estatic with the fact that they have learned how to eat clean and healthy.   When this positive cycle starts happening your body starts to feel happy!   So let's get going, come on into Alive Health Centre, Morning Sun and Supplements Plus!   We look forward to helping you further with your digestive health!