🌱 𝐒𝐔𝐏𝐏𝐎𝐑𝐓 𝐘𝐎𝐔𝐑 𝐃𝐈𝐆𝐄𝐒𝐓𝐈𝐎𝐍 𝐆𝐈𝐕𝐄𝐀𝐖𝐀𝐘 ✨⁠

With Thanksgiving behind us, digestion and cleansing are especially important right now. We want to offer 1 lucky winner a chance to win THREE amazing digestion, cleansing & gut health-related products!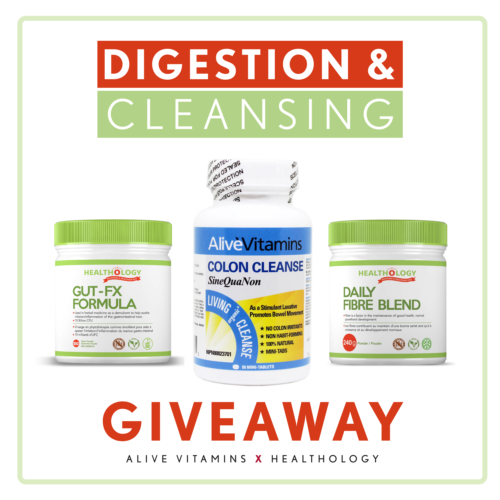 All you have to do is head on over to our Instagram page to enter!
💪🏼 We've teamed up with @my_healthology to bring you everything you need to keep your digestive system happy this fall! You won't want to miss out on this giveaway!⁠
Here is what you can WIN:
✨ 1 Bottle of Gut-FX by Healthology
✨ 1 Bottle of Daily Fibre Blend by Healthology
✨ 1 Bottle of SineQuaNon from Alive Vitamins
How to Enter 🌟⁠
❤️ LIKE this photo⁠ (On Instagram)
✨ FOLLOW @alivehealthctr & @my_healthology (On Instagram)
💥 TAG someone who loves their natural products! Tag multiple friends for more chances to win!⁠ (On Instagram)
The giveaway closes October 27th @ 11:59 pm⁠ PST. The winner will be announced on October 28th @ 10:00 am PST⁠
Let's talk a little bit about these digestion, gut-health, and cleansing products that are up for grabs!
Healthology Gut-FX Formula:
GUT-FX is the ultimate formula to heal inflammation and restore our gut-neighborhood. It provides the building blocks that your body needs to repair the lining of the intestinal tract. It contains herbs to reduce inflammation and soothe digestion, and probiotics to support a healthy gut flora. GUT-FX provides a well-rounded approach to supporting gut health, which improves our ability to absorb nutrients, eliminate toxins, balance the immune system, and support neurological hormones.
Alive Vitamins SineQuaNon:
Looking for a safe, painless way to cleanse your colon? Many people are faced with constipation, or irregularity. This is a big problem and can affect your mood, your job, your physical well being as well as your mental well being as not being able to go can be very stressful. Alive SineQuaNon is a customer favourite as there are NO colon irritants, it is NON habit forming, 100% natural, all organic ingredients, the tablets are tiny and it is free from harsh ingredients such as senna.
Healthology Soluble Fibre Blend:
SOLUBLE FIBRE BLEND provides 5 grams of soluble fibre from a Certified Organic, non-GMO blend of Baobab and Acacia fibres that help to manage weight, lower cholesterol, reduce heart disease risk, and promote healthy digestion. It does not contain artificial sweeteners, colours, sugars, or additives, and is less likely to cause constipation than psyllium-containing formulas. SOLUBLE FIBRE BLEND provides a natural food source of fibre in an easy to consume form that helps us to supplement our daily soluble fibre intake.
"We hope that you will come and visit us at either Alive Health Centre, Morning Sun or Supplements Plus near you! Do not sit in silence; there are so many things you can do to better your health! Get excited and take charge of your health. Let's work together, along with your doctor to ensure you are doing all you can to lead a happy and healthy life. Our team looks forward to helping you with whatever your health concerns are.
Lastly, as a small Canadian business, online sales have helped us keep going. Did you know that a percentage of our online sales go towards the Food banks of greater Vancouver? You are not only supporting us, but we are also working together to help support those in need."

While we practice social distancing we hope you will visit us online at: www.shopalive.ca. If you have any questions email me at: nikki@shopalive.ca