Acai Berry has had a bit of attention lately. There are many wonderful health benefits with Acai Berry and here are a few:
Fights against heart disease,
Promotes anti-aging and
It has weight loss properties.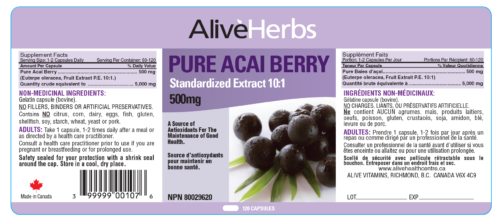 CTV News reports: Acai berries have been widely promoted for weight-loss and anti-aging purposes in North America. But the berry's extract has also shown some ability to lessen the body's inflammatory response in initial medical studies...
Fights against heart disease: The reddish purple acai berries are harvested from the acai palm tree, native to Central and South America. This berry is thought to have a very high antioxidant content, even higher than cranberry, raspberry and blueberry.
Acai contains flavonoids and anthocyanins. These powerful antioxidants help defend the body against life's stressors and enhance its cell protection system. By neutralizing free radicals, antioxidants help prevent diseases caused by oxidative stress such as heart disease.
Anti-aging and weight loss properties: Antioxidants interfere with the aging process. In addition, acai is thought to promote weight loss, although few studies have tested this.
Why take the Alive Brand? We have been around for over 30 years. We source the best quality raw material. Our formulas Contains NO: Corn, dairy, eggs, gluten, fish, shellfish, soy or wheat. Everything that is in the product is on the label and we have all of our NPN (natural product numbers) which means we are approved by Health Canada.
Lastly, as a small Canadian business, online sales have helped us keep going. Did you know that a percentage of our online sales go towards the Food banks of greater Vancouver? You are not only supporting us, but we are also working together to help support those in need.

While we practice social distancing we hope you will visit us online at:
If you have any questions email me at: shannon@shopalive.ca
Do not sit in silence; there are so many things you can do to better your health! Get excited and take charge of your health. Let's work together, along with your doctor/health care professional to ensure you are doing all you can to lead a happy and healthy life. Our team looks forward to helping you with whatever your health concerns are.