What is most notable about the Santevia Water System is that it not only cleans your water, but it adds healthy minerals back to it too, such as calcium and magnesium. Santevia is a locally based company, with its roots in British Columbia. Yvonne, the co-founder of Santevia wanted to create a water system that would create an Alkaline state within the body for her husband, David. Also, a co-founder, David, was suffering from acid reflux and wasn't finding much luck with doctors prescribing pills. That is where Santevia originated from. It helped David tremendously and can help you and your family too. Let's discuss some other neat features that no other water purifier I have used before boasts.

Nearly the ENTIRE pitcher and FILTER are recyclable! When I first opened my MINA pitcher I noticed an insert that showed how easy it was to recycle the filter. THIS was a feature I had never seen before, and I appreciated the time it must have taken to create this sustainable system! I will attach a photo of the leaflet for you to see how easy it looks: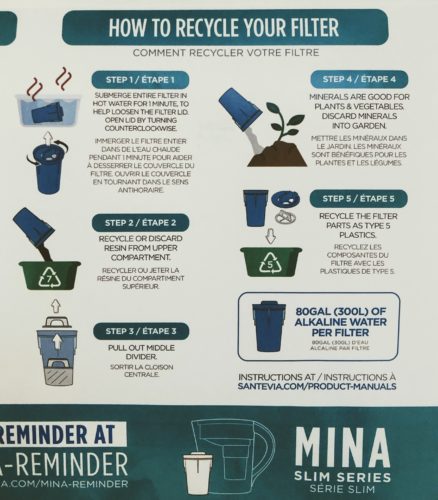 It's as easy as: submerge-recycle-pull-compost-recycle. The plastic that they use is a very high grade unbreakable Tritan plastic that is both BPA and BPS free.
You get on average 300L or 80 gallons of Alkaline water per Santevia filter. This compares to Brita's average filter which provides 151L of non-alkaline water per filter. Not to mention the Brita filter is NOT recyclable!
DRINKING ALKALINE WATER IS ONE OF THE BEST THINGS YOU CAN DO FOR YOUR HEALTH

Dr. Michaelle Schoffro Cook, MSC, PHD, DAC, NCP, OHP
Now you may be wondering why is Alkaline water so important?
According to Santevia, today's water is processed. City tap water treatment removes health trace minerals and reduces alkalinity (pH) while adding harsh chemical disinfectants. Santevia takes out tap water contaminants and restores natural minerals in your water giving you clean, mineralized and naturally alkaline water, the way nature intended.
Some of the Benefits of Drinking Santevia Alkaline Water:
Helps burn fat
Boosts energy with electrolytes
Helps reduce acid reflux
The water tastes better!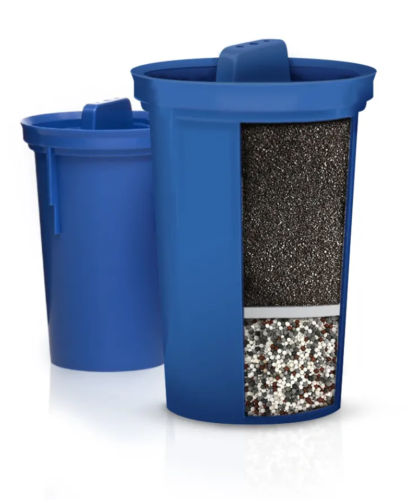 The Santevia filter is comprised of 6 layers:
1- The multi-stage mesh filter.
2- NSF-Certified Ion-Exchange Resin.
3- NSF-Certified Granulated Activated Carbon.
4- Chlorine Reduction Balls.
5- Oxidation Reduction Potential Balls.
6- Natural Minerals.
If you would like to try out the Santevia Water System, or have any questions I would love to discuss my experience with you. Also if you are interested, I have a 1-time discount code to help get you started with your Santevia system! I can be contacted at nikki@shopalive.ca
Lastly, as a small Canadian business, online sales have helped us keep going. Did you know that a percentage of our online sales go towards the Food banks of greater Vancouver? You are not only supporting us, but we are also working together to help support those in need.