People are asking for hair colour that is more gentle, and Herbatint™ is just that! "N" Series Natural Herb Based Hair Colour
The most natural permanent hair colouring gel.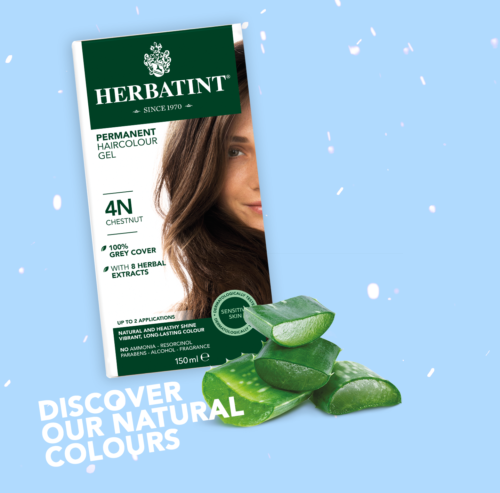 The  N (Natural) Series shades colour your hair while keeping its natural colour balance, choose them if you wish to maintain and revive your natural colour.
Permanently colours hair without damage.
Herbatint has a natural translucent property to enhance hair with a light-reflecting, healthy shine; so it doesn't create the 'block colour' look often associated with chemical dyes.
Permanent herbal hair colour gel without ammonia and without paraben.
Spring, the time of year when everything in nature is celebrating beautiful new beginnings; so why not include your hair, even if it means doing it yourself!
Like many, you may be self-isolating with no access to your hairdresser, dreading the imminent appearance of your natural roots or grey hairs and wondering if now is the time to step out of your comfort zone and opt for an at-home do.
Well, it's easier than you think! All you need is a little guidance through the plethora of hair colour products on the market to determine what's best for you.
Do's and Don'ts of Hair Dyeing
As with anything, the fewer the chemical ingredients, the better. Herbatint, 100% Vegan from Italy, is the safest and most gentle natural alternative hair colour gel in the world – free of ammonia, resorcinol, alcohol, parabens and added fragrances.
By eliminating ammonia, there is little or no penetration of the epidermis, thus reducing the potential for allergic reactions. Although Herbatint has been dermatologically tested on sensitive skin, a patch test is always recommended with the purchase of any new beauty product.
While peroxide is present in all hair dye, even natural options, Herbatint's hair colour line contains one of the lowest levels of peroxide on the market to avoid structural damage to the hair shaft and scalp.
Beneficial Herbal Extracts
The ingredients in your herbal hair colour can impact both the look and health of your hair.
Herbatint is formulated with specific herbal extracts, perfected over 30 years, to gently deposit colour and achieve a natural shine and vibrant result for your hair:
Aloe Vera:  Rich in vitamins A, C and E, enzymes, panthenol and natural minerals. It promotes healthy cell growth resulting in stronger, more vibrant hair. It also helps to moisturize and restore the PH balance of the scalp.
Echinacea:  A hydrating, natural antiseptic that contains flavonoids; known to promote hair regeneration.
Meadowfoam:  Rich in Vitamin E, it helps provide better coverage and long-lasting results.
Rhubarb:  High source of antioxidants.
White Birch:  A hair tonic that helps strengthen follicles to reduce hair loss.
Witch Hazel:  Rich in tannins, it has powerful antioxidant properties and can help alleviate scalp sensitivity and dryness.
Available in 36 rich shades, Herbatint is easy to apply as it goes on evenly and is non-drying. Whether you are looking for 100% grey coverage or if you are just looking for a change, Herbatint has you covered as it can lighten hair by up to two shades. And, depending on hair length, each package provides multiple uses.
Lastly, thank you for your support. As a small Canadian business, online sales have helped us keep going.  Also, did you know that a percentage of our online sales go towards the Foodbanks of greater Vancouver?  You are not only supporting us, but we are also working together to help support those in need.

While we practice social distancing we hope you will  visit us online at:
If you have any questions email me at:  shannon@shopalive.ca
Do not sit in silence; there are so many things you can do to better your health!  Get excited  and take charge of your health. Let's work together, along with your doctor/health care professional to ensure you are doing all you can to lead a happy and healthy life. Our team looks forward to helping you with whatever your health concerns are.