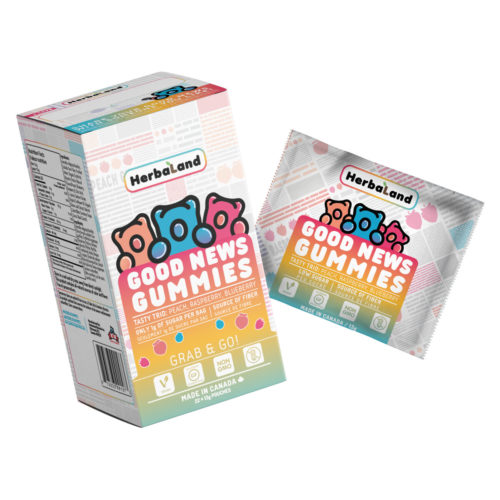 You know the saying… if you can't beat em' join em'. So if you know that you are not going to be able to resist a late-night snack, at least do it in the most healthy way possible! Ok, maybe cutting up some celery, carrots, and raw broccoli without dip would be a healthier option than what I am about to share, BUT you have to live a little.
It's candy – only better!
Once and a while you just need something sweet and tasty. Why is this a great option?
Well, #1 Who doesn't like gummies!
In all seriousness here are the facts:
Good News Gummies – Tasty Trio(Peach, raspberry, blueberry) by Herbaland has only 1g of sugar per bag. That's 30% less than the competitor's low-sugar candy! At Herbaland we are passionate about creating great gummy products for healthy, happy living.
For years, Herbaland's customers have been asking them to create a low-sugar gummy, as delicious as their supplements, but without the active ingredients so they can indulge. They listened and are proud to introduce their new line of clean candies, available in three flavors! Relax and recharge with Rad Raspberry. This gummy is made with all-natural flavors, so juicy and sweet!
It's candy – only better!  Good News Gummies by Herbaland has only:
2g of sugar per bag – that's 30% less than the competitor's low-sugar candy.
They also boast a whopping 13g of fiber per bag.
While we practice social distancing we hope you will  visit us online at:
If you have any questions email me at:  shannon@shopalive.ca
Do not sit in silence; there are so many things you can do to better your health!  Get excited  and take charge of your health. Let's work together, along with your doctor/health care professional to ensure you are doing all you can to lead a happy and healthy life. Our team looks forward to helping you with whatever your health concerns are.