Billberry is a wonderful herb that helps to:
Slow the progression of disorders of the eye such as, diabetic and hypertensive retinopathy and macular degeneration.
Relieve symptoms related to non-complicated chronic venous insufficiency (CVI), such as swelling, heaviness and tingling of the legs.
Relieve diarrhoea.
Provide antioxidants for the maintenance of good health.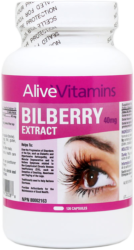 Overview  
Bilberry is made from a little blueberry that is related to blueberries and cranberries. Bilberry is a powerful anti-inflammatory. The herb is also a powerful antioxidant and has glucoquinine (lowers blood sugar levels).  Bilberry contains flavonoids called anthocyanosides that protect the collagen structures in the blood vessels of the eye. Bilberry is used to treat eye problems such as Macular Degeneration, diabetic neuropathy, and/or cataracts. This herb has been shown to help with night vision.
Long Description (Advanced Information):
Alive Vitamins is serious about supplying the best raw material to ensure the greatest benefits.   Alive Vitamins uses Bilberry Extract from Indena Italy, which is regarded as one of the top producers of Bilberry raw material in the world. The active ingredient in Bilberry is called, anthocyanosides, which are a group of flavonoids that increase the production of collagen.   Collagen is absolutely vital for our body as it is a protein that forms connective tissue throughout the body. Collagen is in our eyes, our skin and our joints. It is often just thought of as something to make us look younger or to prevent wrinkles, but it is much more than that.
Bilberry is used in treating weakening arteries, veins as well as treat capillary disorders. Bilberry extract has become the leading herbal prescription for the maintenance of healthy vision and for the treatment of many eye diseases all across Europe.   It is widely used and accepted in Europe by health physicians as studies have shown the many benefits such as its ability to improve visual acuity and night vision while reducing eye strain.   It supports microcirculation and promotes healthy blood vessel reliability.   It is also useful for glaucoma, diabetic retinopathy, and other artery, vein, and capillary disorders.   Amazingly enough, it also helps protect LDL ("bad") cholesterol from oxidative stress.   Again, due to Bilberry being able to produce collagen, it is shown to help in the treatment of inflammatory joint conditions.
Studies with Bilberry show that it helps eyes adapt to the dark, especially after prolonged exposure to bright light and improves visual acuity in dim light. In fact, during World War II, British Pilots ate Bilberry jam before going out on night flights. They claimed it improved their vision. It is believed that the Bilberry herb helps the eyes to adjust to changes in light quickly.

For Best Results:
Take with Alive FloraGLO ® Lutein 18mg – Lutein promotes clear vision in several ways. It absorbs the sun's harmful ultraviolet rays and also blue light.   In addition, lutein neutralizes free radicals in the retina which is the light sensitive part of the eye.   In the centre of the retina, directly behind the lens, is the macula.   The cells in this area help produce the clarity of vision needed to read and see objects.   A key measurement of eye health is the density of macular pigment because macular pigment protects the retina.   Lutein and its co-existing molecule zeaxanthin (found in FloraGLO ® Lutein) are the main antioxidant pigments and the only carotenoids found in the macula and lens.
Shop from the convenience of your home:  https://www.shopalive.ca/shop/product/bilberry-extract-120/