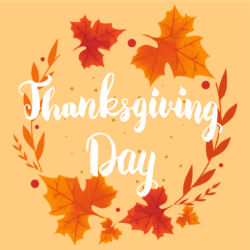 As I drove downtown this morning across the Granville Street bridge I felt a rush of happiness. I would say that I am always content, but to feel a rush of joy felt strange, only because I am always thinking about my next task, step, or thing that I have to do.
I am aware of the importance of being present, but do I practice it… If I am being honest, I am rarely in the moment. So what is my point and why am I sharing this? Well, because health is more than taking supplements, it is more than just exercise, it is about allowing yourself to feel good.   If you feel good, you can do good and you can crush any obstacle that comes along.
Thanksgiving came knocking on my door this morning and nudged me to be present and enjoy the moment. Instead of thinking about where I was going next, I made a choice to enjoy the car ride, enjoy my tunes and look out and see the happy Vancouverites walking along the Granville Street bridge. I found it exhilarating to let go and really appreciate what I have.
I would like to sincerely wish all my friends, family and Alive community a very happy Thanksgiving with your friends, family and loved ones.
Sincerely,
Shannon Chung
VP of Operations