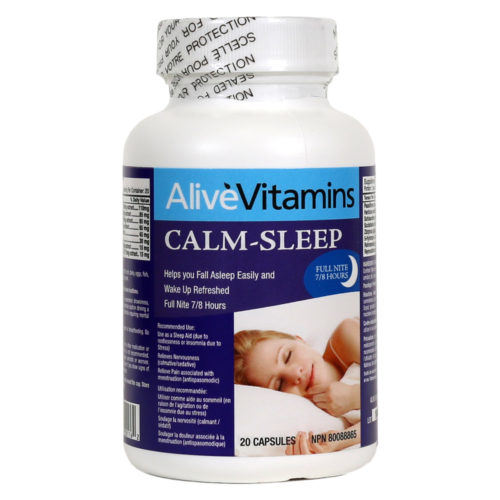 When was the last time, you had a full nights rest?   We are not ourselves without quality sleep.   There are many reasons why we may not be sleeping.   Sometimes, it can be due to stress, and sometimes it is due to shift-work or other reasons.   The wonderful thing about Calm Sleep, by Alive Vitamins, is that it works so well and it is a natural solution that helps with stress as well.
Hope you enjoy the information below on Calm Sleep, which is on sale now until April 21st, 2019.
Fall Asleep Easily & Wake Up Refreshed!
Assist with falling asleep and staying asleep.
Support prolonged sleep.
Reduce restlessness or insomnia due to mental stress.
Relieve nervousness
Wake up refreshed without grogginess, normally associated with prescription drugs.
Available in 7/8 hour and 4/5 hour formulas. The 7/8 formula is designed to help keep you asleep, whereas the 4/5 hour formula helps put you back to bed upon waking up in the middle of the night.
Ingredients:
Passionflower:
Calming, sleep-inducing and muscle spasm relieving effects.
Lion's Mane:
Lowers the levels of depression, anxiety and irritation.
Schisandra:
Treatment of sleep problems (insomnia), tiredness and irritability associated with emotional disturbance.
Skullcap:
A mild nerve sedative or nerve herb.
Jujube:
Widely used in China as a good remedy for insomnia. The calming nature of the organic compounds contained in this beneficial fruit can calm the body and mind to let you fall and stay asleep.
5-HTP:
For mood enhancing, sleep disorders like insomnia and jet lag. Helps to regulate the levels of Serotonin and Melatonin in the brain naturally, increasing levels of these neurotransmitters has been associated with improved ability to induce sleep as well as more restful, deeper sleep throughout the night.
Fleeceflower Caulis (also known as Knotweed):
One of its many benefits is relieving anxiety to relax and fall asleep.
Rehmannia (also known as Chinese Foxglove):
It has many benefits and one is specific to the adrenals glands and has been used to help in cases of adrenal fatigue, which helps to reduce stress, and nervousness.
We hope that you will come and visit us at either  Alive Health Centre,  Morning Sun  or  Supplements Plus  near you!
Do not sit in silence; there are so many things you can do to better your health!  Get excited  and take charge of your health. Let's work together, along with your doctor to ensure you are doing all you can to lead a happy and healthy life. Our team looks forward to helping you with whatever your health concerns are.