New Chapter is an excellent brand that is different from others as their line is always sourced from Whole Foods.   Their Bone Strength formula is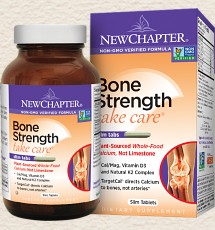 unlike any other as it is from  plant source algae, not from rocks such as tradiational calciums.   We have many customers who love this calcium and Alive Health Centre, Morning Sun and Supplements Plus would like to share it with you!
Calcium Source: Plant Versus Rock
Many people think that all calcium supplements are created equal. The truth is that the most common form of calcium supplement today is derived from limestone or rock. We don't eat rocks as part of our balanced diet, so why would we choose to supplement our bone health nutritional needs with limestone?
Our bodies understand and seek whole food sources of nutrition. That's why New Chapter formulated Bone Strength Take Care with a whole-food plant source of calcium, magnesium, and other important trace minerals.
The calcium complex in Bone Strength Take Care is derived from a specific plant form called Lithothamnion Calcareum, sustainably harvested from pristine shores along the Icelandic coastline. Much like organic vegetables, this sea plant is allowed to mature naturally and then sustainably harvested to deliver its optimal nutritional value.
Calcium must be completely dissolved in order to be absorbed. The plant-based calcium found in Bone Strength Take Care grows in a honeycomb structure and is extremely porous, which dramatically increases the calcium's surface area. Stomach acid can then come into greater contact with the calcium, making it easy to dissolve. Calcium carbonate sourced from limestone has a much smaller, rocky surface area and is more difficult to dissolve.
The Calcium Paradox: Concerns with Heart Health
According to the National Institutes of Health, many people don't get enough calcium from their diet, suggesting supplementation as an alternative to meet their daily required intake. Despite this dietary deficit, emerging research suggests that isolated calcium supplementation can increase cardiovascular risk.
Calcium supplementation alone is risky because calcium requires other nutrients to be properly utilized. The "calcium paradox" holds that without adequate Vitamin K, calcium will not be deposited in the bones where it is required for maintaining bone strength, but rather in the arteries and soft tissues where it can cause stiffening. It is therefore crucial that an effective bone health supplement be formulated with the necessary nutrients and minerals to ensure the optimal utilization of calcium.
TargetCal: Bones, Not Arteries
In addition to whole-food calcium, magnesium and trace minerals, Bone Strength Take Care is formulated with TargetCal ® — a proprietary blend of whole-food vitamins designed to optimize calcium absorption and utilization and avoid the "calcium paradox."
TargetCal provides a highly bioavailable, bioactive, and long-lasting form of natural Vitamin K2 (MK-7). Vitamin K2 is the most active form of Vitamin K in bones and arteries. This key nutrient helps put calcium into our bones where we need it, and helps keep calcium out of our arteries, where we don't. Vitamin K2 (MK-7), sourced from fermented whole food, gently redirects "lost" calcium back into the bone bank.
The TargetCal complex is completed by Vitamin D3 — which is important for calcium absorption and has been found to aid in bone support and function.* New Chapter creates whole-food complexed Vitamin D3 by culturing the nutrient with probiotics and organic whole foods.
Beyond Bone Health: Joint Health and More
In addition to the primary benefit of promoting bone health, the ingredients in Bone Strength Take Care also provide other health benefits — including joint, cardiovascular, and eye health.* The plant-source of calcium found in Bone Strength Take Care has been shown to significantly promote joint health in a placebo-controlled human clinical trial.*
Whole-Food Vitamins D3 and K1, along with Natural Vitamin K2 and Calcium have been shown to promote numerous components of cardiovascular health.* Whole-food Vitamin D3 provides many other benefits including eye, immune, digestive, and respiratory health.*
We hope that you will come and visit us at either Alive Health Centre, Morning Sun or Supplements Plus. Do not sit in silence; there are so many things you can do to better your health! Get excited and take charge of your health. Let's work together, along with your doctor to ensure you are doing all you can to lead a happy and healthy life. Our team looks forward to helping you with what ever your health concerns are.