Amazing RESULTS & TESTIMONIALS with Bell STOP Hair Loss Formula for Men and Women!
At Alive, Morning Sun and Supplements Plus, our customers have been raving about the Bell STOP Hair Loss for Men and Women.   It is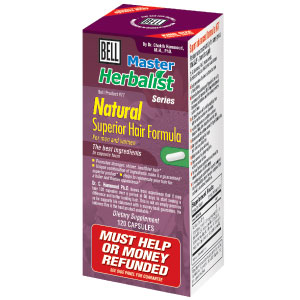 hard to keep on the shelves.   If you have tried everything and nothing seems to be doing the job, try Bell STOP Hair Loss.   Other tips for stopping hair loss, or thinning hair, is:
Take digestive enzymes with your meals.   Sometimes we are losing hair simply because we are not able to absorb the nutrients from our food.
Nutrition is number one!   Your hair is made of protein, be sure to supplement with a protein powder.   Make a smoothie in the morning they are delicious!   Prairie Naturals has an excellent line of Organic Protein, everything from Whey, Hemp and Soy.
Massage your scalp, this helps the blood flow and blood takes your nutrients where they need to go!
Now here is a little information on Bell Stop Hair Loss:
We naturally lose 50 to 100 hairs everyday and new strands should replace them, but this is not always the case. The most common type of hair loss is male pattern baldness. It is thought that the follicles are programmed to stop hair production when there are high levels of male hormones. Dr. C. Hammoud, Ph.D. recommends BELL STOP Hair Loss for the following candidates: Early prevention of baldness for those that have a family history. Pattern baldness (Androgenic Alopecia) is caused by oversupply of hormone DHT (Dihydrotestosterone). It damages hair follicles over time unless preventive action is taken. Help for people who are on radiation or chemo therapy. Recommended for problems caused by thyroid dysfunction. Can remedy underlying skin fungus that is the cause of hair loss. Helps in cases of iron deficiency and lastly feeds women's hair after giving birth which may cause hair loss.
Testimonial:
A pleasant surprise #77 actually worked!        
Last 5 years I started to notice that I am losing hair.   A friend had good results with #77 and that is why I gave it a try and it worked for me, too.   I was skeptical because there are so many products on the market that don't produce good results.   It was a pleasant surprise.   My hair looks much better now and I hope with #77 I can avoid getting bald.   Thank you very much.                  
As always, we hope that you will come and visit us at either Alive Health Centre, Morning Sun or Supplements Plus. Do not sit in silence; there are so many things you can do to better your health! Get excited and take charge of your health. Let's work together, along with your doctor to ensure you are doing all you can to lead a happy and healthy life. Our team looks forward to helping you with what ever your health concerns are.
Also, if there is not a location near you, we do MAIL ORDERS call us toll free at 1 866 499 9546