Dr. Oz talked about the Green Coffee Bean extract as one of the most amazing ingredients for losing weight fast all over the body.  Dr. Oz is all about Fat Busters as he is on  a mission to help people lose weight.  Sounds too good to be true, but with the research to back it up along with the fact it is safe  Green Coffee Bean extract  is something that can help millions who are in desparate need of fat loss.
Green Coffee Bean Extract Highlights: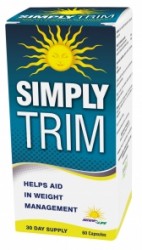 Green coffee bean extract refers to coffee in its rawest, purest form. The unroasted seeds, or beans, of coffea fruits may slow glucose absorption and stop fat from accumulating all over your body.
In a new study, participants who took the supplement did not exercise nor did they change their diet, yet they lost over 10% of their body weight on average and 17 pounds in 22 weeks.
Simply Trim by Renew Life contains Green Coffee Bean Extract and it is of excellent quality with no binders or fillers.
Non-medicinal ingredients : Vegetable capsules (Hypromellose, water) Excipients: None
On the label you will see Svetol ® which  is a decaffeinated green coffee bean extract rich in a health-promoting antioxidant called chlorogenic acid. It is one of the few weight loss products backed by scientific research.   The chlorogenic acid is a polyphenol that is important for plant metabolism which has the same effect on humans.   It speeds up the metabolism by slowing down the release of glucose into the blood.   When this happens the body uses fat cells for energy instead of sugar.
Research also shows that Svetol ® will reduce the size of fat cells within our adipose tissue. This positively changes body composition and metabolism by increasing the muscle-to-fat ratio.
Study using Simply Trim
A double blind clinical study of 50 subjects showed the following: After 8 weeks of consuming either 400 mg of Svetol ® or a placebo with no change to diet and exercise habits, the Svetol ® group showed a reduction of body weight of 5.7% or an average weight loss of 11 lbs. This is twice as much as the placebo group. Perhaps even more exciting is that the Svetol ® group showed an increase in lean to fat mass ratio of 4%. Lean body mass is what determines your basal metabolic rate, so an increase in lean muscle mass corresponds to an increase in metabolism. SIMPLY TRIM delivers 400 mg of Svetol ®, the therapeutic dosage.
As always, we hope that you will come and visit us at either Alive Health Centre, Morning Sun or Supplements Plus. Do not sit in silence; there are so many things you can do to better your health! Get excited and take charge of your health. Let's work together, along with your doctor to ensure you are doing all you can to lead a happy and healthy life. Our team looks forward to helping you with what ever your health concerns are.
Also, if there is not a location near you, we do MAIL ORDERS call us toll free at 1 866 499 9546