Below is a message from Angela Sasso your Vancouver Personal Fitness trainer.   I have posted about her before as she has launched her weight loss book recently.   She has a more affordable as well as convenient option.   Together Angela and I want to help people not just lose weight, but also get healthy for life! Here is her message: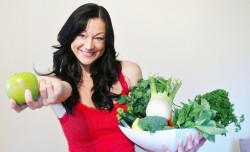 I know many of you mentioned that you are really ready & motivated to lose the weight, especially now that summer is just around the corner!! So, I decided to turn the 7 Day Weight Loss Diet Plan into an E-Book for $19.99!  
Your results are important to me…my goal is to have
all of you to achieve your goals 🙂
■ Average weight lost in this week is 5 lbs!! ■ 28 pages! Each page is laid out with detailed recipes for your breakfast, snacks, lunch, and dinner…this is not simply a list of food,
this is a plan. â–  Includes a complete grocery list for the week! â–  Complete recipes â– 

Bonus!
2 Fat-Melting workouts you can do anywhere!
If you are tired of being stuck and can't seem to shed the last 5-10 pounds, or want to kickstart your weight loss, try this plan, it works! What you eat is the secret to Fat-Burning or Fat-Storing, if you are not eating the right foods you will be sabotaging you fat loss success.
Learn the right way lose weight by eating natural nutrient dense foods that help balance your hormones, stablize blood sugar, and energy levels…and finally have lasting fat loss!
"Helping people Lose Weight & Feel Great!"