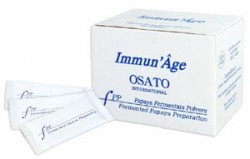 Immun' Age uses a papaya fermentation process to fight the negative affects that stress poses on our body.   The main benefits of taking  Immun' Age  are: to fight stress, fight fatigue, improve an unbalanced lifestyle, improve low immune defences and combat against ageing.
Professor Luc Montagnier is well known for the discovery of the HIV 1 and 2 viruses.   He is also President of the World Foundation for AIDS research and prevention.    Immun' Age  is the only papaya fermentation process recommended by him.   There have been more than 40 clinical studies performed on the fermented papaya preparation  (F.P.P.) produced by the Osato laboratories.   This  fermented papaya preparation contains antioxidant compounds with remarkable properties such as: oligosaccharides which simulate the presence of betaglucans which  help protect against infections.
Why take Immun' Age?
Life is all about doing the best we can.   We try to eat healthy, exercise regularly, have time for family and friends while still holding down a good job that is rewarding.   Finding that balance on an individual bases is very difficult, there is no one model that will suite every single one of us.   The one thing we have in common is we put pressures on ourselves, we put stress on ourselves and we need all the help we can get.   Immun' Age is one of those products that is like health insurance that is actually giving you benefits everyday.
Who can take Immun' Age?
People take Immun' Age for all sorts of reasons: to regain well-being and vitality (for any age group), to optimize well being and the ability to defend against pathogens, and to help protect against the ageing process.   A common argument is that we are all going to age it is inevitable.   This is true, but it is the quality of life that we are striving for.   You can live 90 years, but of those 90 years you want to be functional, walking around, telling stories and laughing.   Immun' Age helps prevent signs of accelerated ageing such as premature memory loss, pains, frequent infections, persistent fatigue and age related illnesses.   This product is not so much about that stubborn wrinkle, but rather serious health issues that can get in the way of living.
Recommended Dosage:
For continuous use it is recommended to take 2 to 3 sachets a day depending on ones fitness, age and environment.
There are NO side effects and  Immun' Age is  100% natural without any preservatives or chemicals additives.
As always thank you for reading.   We look forward to helping you at a location near you!   We love what we do at Alive Health Centre and Morning Sun.   Life is the most important thing together we can make the most of it.