Do you suffer from Crappy Sleepless Nights?   You are not alone.   Sleeplessness is one of the most common concerns among our customers.   Life today has become so stressful and busy that our minds never slow down nor know how to relax.   Sleep patterns may change with age and stress levels, but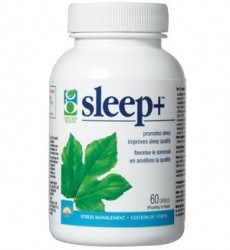 with sleep+ you can maintain optimum quantity and quality of
sleep, safely and naturally.   Containing a
synergistic blend of all-natural herbal ingredients, sleep+promotes
healthy, better quality sleep, while strengthening your central nervous system,
leaving you relaxed and recharged for the next busy day.   Safe and effective, sleep+
is what every stressed, sleep-deprived body needs without any habit-forming or
'hang-over' side effects!   Remember
you are not just losing sleep; studies show that being sleep-deprived causes
premature aging!   Adequate sleep
ensures that your body will repair itself and promote a leaner body therefore
reducing your risks of weight gain!
Now with Sleep+ there is no excuse for restless, frustrating nights, try
it today!
Size 60 caps
As always thank you for reading and we look forward to helping you at a location near you!   We also do mail orders, feel free to call us toll free at 1866 499 9546