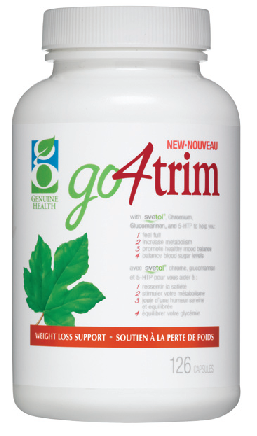 Dr. Oz has been talking a lot lately about his favourite super foods, antioxidants, and supplements in general for the year 2010.   When it comes to weight loss he is a firm believer in finding balance by  maintaining a solid foundation with a good diet and regular moderate exercise.   Sometimes people can use an extra boost, and they need a healthy crutch to get them on their way.   One of D. Oz favourite weight loss ingredients for 2010 is: Glucomannan.   Many people are in search of this ingreedient and it can be found in Genuine Health's new weight loss formula Go4Trim!
So what does glucomannan do?
Aids in the feeling of fullness.   Most of the population can benefit from this.   We are a society that tends to over eat, our portions get out of control and with Christmas coming around the corner glucomannan can certainly help.
It also helps to lower cholesterol levels the lowsy cholesterol LDL.   It does this by reducing the absorption of cholesterol in the gastrointestinal tract.
Also glucomannan aids in regular bowel movements!   Many people are shy to talk about it, but having a regular bowel movement preferably twice a day or at least once a day is crucial to living a healthy life.
The medical world is very interested in the safe ingredient.   There are already many studies showing its effectiveness with aiding weight loss, but there are more and more studies trying to demonstrate glucomannan's positive relationship in aiding Type II diabetes, high blood pressure, among other conditions.   You can find an abundance of scholarly articles  in the American Journal of Clinical Nutrition.
What are the other safe and natural ingreedients in Genuine Health's Go4Trim weight loss supplement?
Coffea canephora robusta Pierre (decaffeinated)
Helps in weight management when taken with a healthy diet and regular exercise
Sustainably sourced
5-HTP
 Helps to promote healthy mood, it is even used to help treat depression, also aids in  sleep
 Helps to relieve symptoms of fibromyalgia
 Helps to reduce the severity and  can shorten the length  of a migraine
Chromium (polynicotinate)
 Helps to maintain good health
 Provides support for  balancing the blood sugar
 Helps the body to metabolize carbohydrates and fats
The Main Benefits of GO4Trim:
Increases fat burning and improves the metabolism
Makes you feel full and satisfied
Reduces emotional eating,  stopping you from  using  food as a coping mechanism
And it balances blood sugar levels
So stop telling yourself you can't do it.   While you may be struggling with diet and exercise alone, this product by Genuine Health is good for pretty much everyone especially when you may not be 100% sure why you have gained the weight in the first place.   Some people do not realize they have sugar cravings, some people do not realize that they are an emotional eater, and some people are all of the above and do not want to take a fist full of different supplements.   As always thank you for reading and remember you can do it!   Take charge of your weight now, don't wait until after the holidays, enjoy yourself, but do it with balance.   Look forward to seeing you with what ever your health concerns are at either Alive Health Centre, Morning Sun or Supplements Plus.