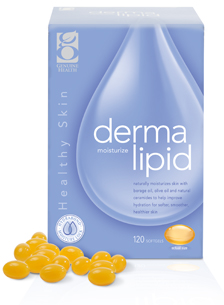 Genuine Health takes healthy skin to another level.   While there are many topical moisturizers out on the market, Genuine Health continues to produce  unique products of excellent quality that have the research behind them to show their effectiveness.   Their newest product moisturizes the skin from the inside out.   These little softgels that are filled with nourishment and hydration for the skin are called, Dermalipid.  
Currently, Genuine Health skin care line consists of:
Health Skin Chocolate Chews also available in powder form.   Helps to maintain the elasticity of the skin and to improve the skins complexion.
Omega Glow is their omega 3 fish oil.   Fish oil is an essential nutrient for the skin.
Multi Daily Glow is their multivitamin.   This multi focusses on the essential minerals, vitamins and antioxidants for the skin.
Perfect Skin is for acne prone skin.   Helps to reduce inflammation and irritation to the skin.
AND now Genuine Health has Dermalipid, the final step in healthy skin is to moiturize.
Next to body wash or soap, moisturizers are the second most popular costmetic that people buy.   Nobody wants dry skin; and it is not just because dry wrinkly skin makes us look older, it is irritating and uncomfortable.   The trouble with many moisturizers is the chemicals.   With Dermalipid you do not have to worry.   There are no preservatives, or parabens.   Dermalipid is completely safe and effective.
Main points of Dermalipid:
Works with the first layer of the skin the epidermis and it helps to improve the skin "brick wall".   The bricks become tighter and closer together so the skin doesnt loose its shape.
It looks in moisture from within – as oposed to just covering up the skin
Uses natural ingredients such as borage oil, squalene oil (from olive oil).
Slows down the aging process.
Its completely safe and natural!