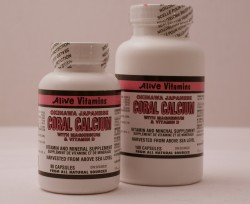 Quick tips on Coral Calcium:
Coral Calcium is naturally ionized (natures smallest form, its 1000 times smaller than colloidal).  
Coral calcium  becomes ionic upon contact with moisture which makes coral calcium one of the most absorbable forms of calcium.
Alive Brand Coral Calcium has: Magnesium Citrate, Vitamin D, HCL and 74 trace minerals!
Calcium and other minerals help return the body to its natural alkaline state and this helps reduce disease.
Coral Calcium is extremely effective in preventing Osteoporosis, and if you do have Osteo, Coral Calcium is a great choice because of its high absorbtion.
Coral Calcium has been a favourite amoung our customers for years.   Our customers love it because of its  high absorbtion and great results!  Alive Coral Calcium comes in a capsule form which makes it much easier to get down.   No more horse pills!   As always we look forward to helping you with   your health!   We have many different calciums to fit your needs.   See you soon!