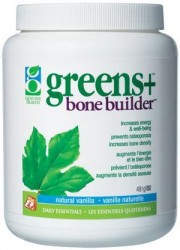 When people think of Greens + (Brand Genuine Health), the original Greens formula comes to mind, as well as their fish oils and multi vitamins, but the Greens + Bone Builder is sometimes overlooked.   Both the Vancouver Sun and the National Post feature  interesting findings on Osteoporosis and bone health in general.   Some of the research is from the University of Toronto.   When it comes to bone health we are finding more and more that calcium, magnesium and vitamin D are a great start but there is much more we can do for our bones.
For more exciting and new information on the  importance of your Greens + Bone Builder please visit http://www.nationalpost.com/story.html?id=2257204  as well as http://www.vancouversun.com/health/Greens+supplements+also+your+bones+good/2255781/story.html
Alive Health Centre, Morning Sun and Supplements Plus  carries Greens + Bone Builder.   We look forward to seeing you soon!