Do you find yourself slowing down, having difficulty walking up or down the stairs or limiting your physical activity because of joint aches and stiffness? People who suffer from sore joints, aches or muscle pain often resort to anti-inflammatory drugs that mask symptoms and are hard on the stomach. If you are looking for a natural choice for proven joint pain relief, look no further than SierraSil. With numerous research studies conducted throughout the years, many individuals including athletes, professionals and those dealing with joint pain, have benefited from SierraSil. Whether your pain is from age, activity or even some health conditions, within 14 days of supplementation we guarantee you'll have better mobility and be able to continue living life to the fullest.
Sourced Naturally
SierraSil is a clay-mineral deposit sourced from a pristine deposit in the Sierra Mountains with extensive clinical research for both safety and efficacy which has even earned the mineral a patent as a nutritional supplement for the treatment of osteoarthritis. SierraSil Joint Formula 14 eases joint and muscle aches, reduces stiffness and helps prevent cartilage breakdown associated with exercise and movement.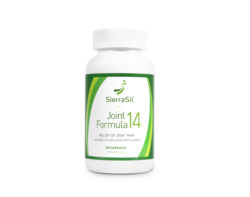 The benefits of SierraSil
Calms inflammation
Detoxifies the body
Eases joint and muscle aches
Reduces cartilage breakdown
100% vegetarian and vegan
GMO free, gluten free
BC Kosher certified
Informed Choice Sport Certified
Suitable for most dietary types, including diabetics and celiac sensitivities
Maximize the benefits
While the SierraSil mineral complex provides relief and calms inflammation, SierraSil alone is not a substitute for healthy living. To complement SierraSil's effectiveness, we recommend incorporating positive habits such as proper diet and physical activity.
Tips for creating a healthy body
Follow a proper diet
Include wholesome foods, including plenty of fruits, vegetables, whole grains, foods rich in essential fatty acids and healthy fats from natural sources (nuts, avocados, coconut oil).
Drink lots of water
Drink plenty of water throughout the day to flush out any toxins and keep things moving along.
Get regular exercise
Whether it's walking, biking or gardening, make sure to take some time to move your body for at least 20 minutes, 3 to 4 times a week. Exercise helps boost your mood, lowers stress and helps calm inflammation – the underlining cause for joint aches.
Get adequate sleep and relaxation
Sleep helps recharge the body and mind. To ensure you get sufficient sleep, try to aim for 7-8 hours every night.
When it comes to relieving joint and muscle aches, choose a supplement that will not mask the symptoms but treat the underlining cause. SierraSil calms inflammation and will help you get back to your best self. For more information on SierraSil, visit www.sierrasil.com. You are less than 2 weeks away from feeling your best.
As always, thanks for reading! If you have any questions or want to do a mail order call toll free: 1-866-499-9546
We hope that you will come and visit us at either Alive Health Centre, Morning Sun or Supplements Plus. Do not sit in silence; there are so many things you can do to better your health! Get excited and take charge of your health. Let's work together, along with your doctor to ensure you are doing all you can to lead a happy and healthy life. Our team looks forward to helping you with what ever your health concerns are.