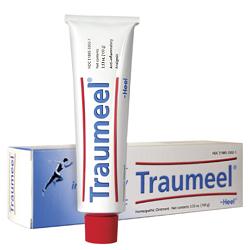 Whether you have a sports injury, pain in your joints/muscles from over use, or you have been in an accident Traumeel by Heel is an excellent way to help speed the  healing of  your injury.   Everyday we have customers use it for nagging back pain as well as for other parts of the body, and we have had professional dancers come it raving about the product.   I have also used it myself for my hip injury and it helped tremendously.   Personally I like the gel more than the creme.   The gel is supposed to have faster absorption, but it feels colder to the touch.   Elderly tend to like the creme better and it is the original form.   I have also used the tablets that desolve in the mouth.   Traumeel is more effective when using it internally as well as externally on the specific area.
Traumeel comes in 4 forms:
Gel – external, Creme – external, Tablets – internal, Liquid – internal
Tips When Using The Product:
Apply the gel or creme 3 times daily.  
You can apply more times if necessary.
It says to apply generously, but it absorbs better in thin layers.   Therefore, thin layers, but you may apply it more frequently.
For internal use in general dissolve 1 tablet under the tongue 3 times daily.  
What is in Traumeel Creme?
Composition:
Active ingredients: 100 g contains: Arnica montana, radix D3, 4.416g; Calendula officinalis D1, Hamamelis virginiana D1, 1.326g each; Bellis perennis D1, Hypericum perforatum D3, 0.295g; Millefolium D1, 0.265 g; Symphytum officinale D4, 0.295g; Aconitum napellus D3, Belladonna D3, 0.147g each; Hepar sulphuris calcareum D6, 0.074g; Chamomilla D1, Echinacea angustifolia D1, Echinacea purpurea D1, 0.442g each.
Non-medicinal ingredients: Hydrophilic ointment base according to USP XXIII.
As always we look forward to helping you at Alive Health Centre, Supplements Plus and Morning Sun.   We hope to see you soon.   If you want to know more about Traumeel or other products do not hesitate to come on in and ask us.