Finally – a highly effective plant-based non-abrasive natural exfoliant that is light to use on the face but still has the effectiveness of traditional exfoliators.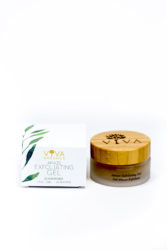 Did you know that to help prevent fine lines and wrinkles exfoliating is just as important as the rest of your skin care regime? Only when dead skin cell tissues are removed, can new skin cells emerge! This "amazing" gel is an instant skin rejuvenation! Made with Royal Jelly, Aloe Vera, Ginseng and Germanium Amaze Gel exfoliates your skin so completely your skin instantly looks youthful and radiant! Customers often comment it is like having a facial after you are finished. Apply a small amount on your skin and you'll be amazed to see a large amount of dead skin cells coming off! This gentle, non-abrasive gel is also great to remove blackheads, freckles and age spots! Your skin will instantly feel softer and lighter. Come in to get a demo!
 Coupon Valid Until April 22nd 2017 – See terms and conditions on coupon.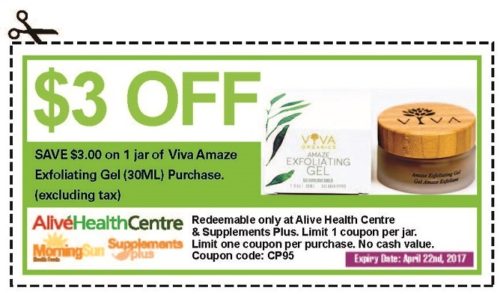 Ingredients:
Aqua (Water), Propanediol (Zemea, approved by Ecocert), *Vegetable Glycerine, Centrimonium Chloride, Aloe Barbadensis Leaf Extract, Polygonum Multiflorum Root, *Camellia Sinensis Leaf (White Tea), Radish Root Ferment Filtrate, Lactobacillus Ferment, Potassium Sorbate, *Zingiber Offcinale (Ginger) Root Oil, *Panax Ginseng Root, Angelica Polymorpha Sinensis, Sodium Hyaluronate. *Certified Organic
We hope that you will come and visit us at either Alive Health Centre, Morning Sun or Supplements Plus. Do not sit in silence; there are so many things you can do to better your health! Get excited and take charge of your health. Let's work together, along with your doctor to ensure you are doing all you can to lead a happy and healthy life. Our team looks forward to helping you with what ever your health concerns are.