Right now we are featuring Family Buzz Patch (24 Patches just $11.99!) in our Sizzling Summer Sale! Check out our other Sizzling Offers and a location near you.  Or call us Toll Free to place your order 1 – 866 – 499 – 9546
Let's face it, bug bites are annoying and sometimes painful!  The thought of camping and having a nice BBQ seems so great and then that pesky mosquito comes along to ruin the fun.  One of my favourite sayings that I tell my three kids is… "If you think you are too small to make a difference, try sleeping in the same room as a mosquito!" So what is the solution… we want to teach our kids to be outside and to play especially in the summer months and we don't want to be slapping a whole munch of chemicals all over our kids, so I can say personally that I love the Family Buzz Patch.  It is all natural, you do not need to spray anything, it's not harmful to your cloths or skin and it last 8 hours!  It is safe for anyone and it is a pleasant citronella scent.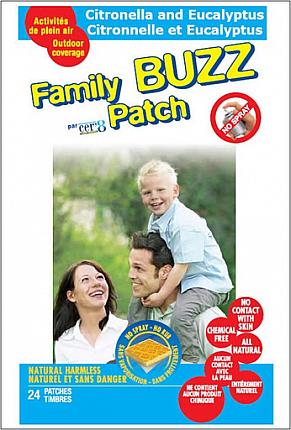 BUG REPELLING PATCH: ALL NATURAL! NO SPRAY! NO RUB!
LARUS PHARMA FAMILY BUZZ PATCHES are well suited for infants and children and they are the only product available that can be used for newborns as protection while outdoors. These unique patches are patented and are supported by Canadian, European and American Testing. Family Buzz Patches have been scientifically  tested at North Carolina University.
How do you use it?
Think of a glow stick, simply take the little square and crack it so that the patented citronella formula is activated.   It is recommended  to use two patches (one behind your neck and one behind your knee) to give you normal coverage outdoors. You can also stick Family Buzz Patches on strollers on either side for great protection to the passenger within.
Each box comes with two individually wrapped sleeves of 12 patches.
As always, thanks for reading! If you have any questions or want to do a mail order call toll free: 1-866-499-9546
We hope that you will come and visit us at either Alive Health Centre, Morning Sun or Supplements Plus. Do not sit in silence; there are so many things you can do to better your health! Get excited and take charge of your health. Let's work together, along with your doctor to ensure you are doing all you can to lead a happy and healthy life. Our team looks forward to helping you with what ever your health concerns are.