Essential Oils are a staple in my household.   Sometimes we always think about supplements for healing and we  forget the power of essential oils!   Hope you enjoy the post…
Some interesting facts and history of essential Oils:
žHealing practices dating back to 4000BC
The early 1900's, significant period in the development of essential oils and their therapeutic applications.
Rene-Maurice Gattefosse, French chemist and perfumer, coined the phrase "Aromatherapy" in his first book:

Aromatherapie: Les Huiles Essentialles Hormaones Vegetales, was translated into English.
"Father of Aromatherapy".
Maintaining consistent quality in natural products like NOW ® Solutions Essential Oils is a complex process, especially as supply changes from season to season.
So how does NOW Solutions consistently assure the identity and purity of our essential oils? We utilize state-of-the-art testing and analysis as well as numerous checks and balances, including:
Identity and purity testing
Use of  The Essential Oils  compendium by Ernest Guenther, Ph.D. and  Fenaroli's Handbook of Flavor Ingredients, edited by George A. Burdock, Ph.D., to verify the correct essential oil species
Supplier/grower track record of providing high quality materials
Aroma comparisons
Review of essential oil processing to ensure that appropriate extraction methods are used
Appropriate cautionary and regulatory language
Because identity and purity are key attributes of any essential oil, testing for these attributes is the best way to ensure an oil's quality.
Blending Essential Oils:
Use 1 oz./30ml of a skin care oil: 7-30 drops of essential oils

Fill 1 oz. bottle ½ way with a carrier oil then follow recipes drop ratio, and fill to top – this can be doubled
Do not exceed 30 drops per 1 oz.

Recipe ideas visit www.nowfoods.com/nowsolutions
Three groups

Top notes; highly volatile, evaporate quickly
Middle notes; stimulate main body systems
Bass/Base notes; evaporate slowly, calming
Want to Learn More?
NOW Solutions identity and purity testing program uses four individual tests. To explore each test in more detail and to learn the designation between Food Grade and Therapeutic Grade oils, CLICK HERE.
Most Alive, Morning Sun and Supplements Plus stores carry the majority of the Essential Oils, and if we do not have the specific one we will get it for you!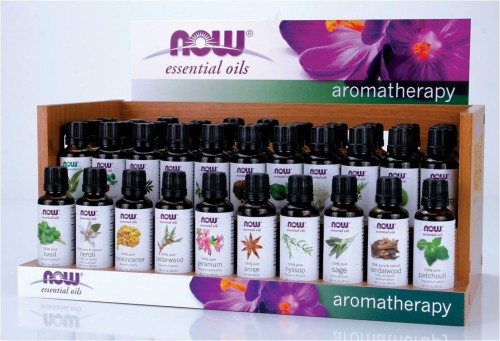 We hope that you will come and visit us at either Alive Health Centre, Morning Sun or Supplements Plus. Do not sit in silence; there are so many things you can do to better your health! Get excited and take charge of your health. Let's work together, along with your doctor to ensure you are doing all you can to lead a happy and healthy life. Our team looks forward to helping you with what ever your health concerns are.