Want to feel vibrant, energized and on top of the world?   This product is awesome for: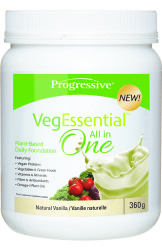 Over worked mothers and fathers,
People that are tired even when they have slept  8 hours,
Kids that are lacking nutrition because they won't eat their veges,
Elderly that have lost the inspiration/ability to cook wholesome meals…
Basically this product is for just about everyone!
Plant-Based Daily Foundation
VegEssentialâ"¢ combines the benefit of an entire cupboard full of supplements with the ease of consuming a single smoothie. This simple to use all-in-one formula not only provides unmatched nutritional density, it also provides unmatched convenience.
VegEssentialâ"¢ embraces the wisdom of consuming an alkaline-forming, whole-food diet and draws on almost 100 plant-based ingredients to deliver an incredible spectrum of both micro and macro nutrients. It is also dairy, trans fat and cholesterol free, with no added sugars and no artificial flavours, colours or sweeteners.
Product Features:
27g of Protein – Representing more complete protein than 4 eggs, without relying on any animal sources.
7g of Fibre – Including both soluble and insoluble forms. Every scoop supplies more fibre than a whole bowl full of oatmeal.
2g of Omega-3 Plant Oils – From phospholipids, flax, borage, pumpkin, primrose and safflower.
~5000 ORAC Units – Featuring green tea, blueberry, grape seeds, red wine extract, lycopene, resveratrol and lutein. A single serving satisfies your entire daily requirement.
6-8 Servings of Fresh Vegetables – With a blend of 23 vegetables and green food concentrates, VegEssentialTM provides a whole spectrum of plant-based super foods.
Over 100% RDA of 13 Vitamins & Minerals – These include Vitamins A, E and C, Thiamin, Riboflavin, Niacin, B6, Folate, B12, Pantothenic Acid, Biotin, Chromium and Manganese.
We hope that you will come and visit us at either Alive Health Centre, Morning Sun or Supplements Plus. Do not sit in silence; there are so many things you can do to better your health! Get excited and take charge of your health. Let's work together, along with your doctor to ensure you are doing all you can to lead a happy and healthy life. Our team looks forward to helping you with what ever your health concerns are.