Wouldn't you love to Lose 17lbs in 22 Weeks without a change in diet or exercise!!   Green Coffee Bean Extract can help you to reach your weight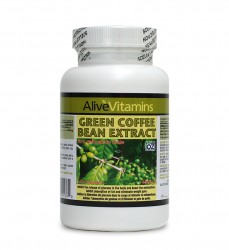 loss goals!   Alive Brand Green Coffee Bean Extract is a favourite among our customers because it works!   The testimonials are amazing.
Dr. Oz is on a mission to help people lose weight as we are continuously over fed and undernourished which has resulted in rising obesity rates across North America.   Don't get down, GET EVEN and try Alive Green Coffee Bean Extract. Highlights: Green coffee bean extract refers to coffee in its rawest, purest form containing Chlorogenic Acid which helps to slow glucose absorption and stop fat from accumulating all over your body.   An experiment in the Diabetes Journal found when subjects consumed 800mg twice daily In 12 weeks (4 months) subjects lost an average of 17lbs each – representing 10.5% of their overall body weight and 16% of their overall body fat!   According to Dr Lindsay, who appeared on Dr Oz show, it could be an effective weapon against the obesity epidemic in North America. He said Green Coffee Bean inhibits the release of glucose in the body all while boosting the metabolism. It works to inhibit the absorption of fat and eliminate weight gain! Alive Green Coffee Bean Extract Bean Extract can certainly be combined with Alive Raspberry Ketones.   They provide different methods of attack to get you down to your ultimate weight loss goal.   So how much fat do you want to lose? 5, 10, 20 lbs? Studies SHOW that subjects lost weight without changing their diet or physical activity!!   Imagine the possibilities of combining Dr. Oz's top weight loss supplements of 2012 along with a little bit of healthy eating choices and moderate exercise!
As always, we hope that you will come and visit us at either Alive Health Centre, Morning Sun or Supplements Plus. Do not sit in silence; there are so many things you can do to better your health! Get excited and take charge of your health. Let's work together, along with your doctor to ensure you are doing all you can to lead a happy and healthy life. Our team looks forward to helping you with what ever your health concerns are.
Also, if there is not a location near you, we do MAIL ORDERS call us toll free at 1 866 499 9546
To view more flyer items click below on our flyer links.   Please note it takes a moment to load.
Alive Health Centre (B.C. locations)
Morning Sun Health Foods (Alberta Locations)
Supplements Plus (Toronto Locations)