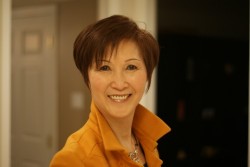 Many customers are excited to meet Alice Chung, the owner of Alive Health Centre and chains as she is a steady force in the natural health sector.   Alice is approachable, down to earth and always ready to help.   She believes in healthy competition and is always working with other natural health stores and this is one of the reasons she loves to share what she does at Alive Health Centre and chains as she hopes to help those that are starting out in their business venture.
Customers are always excited for  her  Fall, Winter and Spring Flyer.   One of the most famous parts is the  ASK Alice column, which talks to customers about a health topic of some kind.   I wanted to share her recent interview in the Canadian Natural Health Retailor magazine.   She had quite the extensive interview.   I hope you enjoy!
cnhr magazine article with Alice Chung
As always, we hope that you will come and visit us at either Alive Health Centre, Morning Sun or Supplements Plus. Do not sit in silence; there are so many things you can do to better your health! Get excited and take charge of your health. Let's work together, along with your doctor to ensure you are doing all you can to lead a happy and healthy life. Our team looks forward to helping you with what ever your health concerns are.
Also, if there is not a location near you, we do MAIL ORDERS call us toll free at 1 866 499 9546