Ready to lose weight but do not know where to start? There are many ways to  lose weight these days: going to the gym, at home DVD's, supplements, personal trainers, proper diet, extreme diets and the list goes on.   We are bombarded by info mercials at this time of year and it can become extremely overwhelming which turns into stress and unltimately more weight gain!   We give up so easily because there is so much pressure at this time of year.   Everyone you talk to wants to lose weight and you turn on the TV and it seems like last month because of Christmas everyone was teaching us how to make the richest most delicious desserts and now everyone wants to show us all the different things we can do with lettace (yipee)  so we can lose weight.
So before you challenge yourself with losing weight there are some things you can think about to set yourself up for long term success:
Find a balance that works for you.   Meaning a balance of eating healthy in a way that you can sustain for LIFE!   Exercise that you can commit to continuosly.   Something that you enjoy, not something you dread that will not last.
No more stress.   Relax, losing weight is easier than you think!   You just need a plan, specific goals, encouragement and a positive outlook!
Write down the reasons you want to lose weight and put it somewhere where you can see it everyday as a reminder.
Get rid of things that tempt you!
Losing weight is simple but not always easy!   Basically if you burn more calories than you are consuming you will lose weight!   The hard part is doing the right things to get your body into fat burning mode.   There are soooo many supplements to turn to and Weight OFF is a fantastic choice because it is  clinally proven and safe product that works.
Features and Benefits: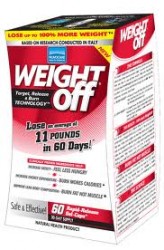 Stimulates 5 key weight loss functions
Helps you lose 100% more weight than dieting alone (go to weightoff.ca to see study)
Helps you burn FAT not muscle
Easy to use just one capsule twice daily
Safe and effective
Clinally proven to work
5 Key Weight Loss Functions of Weight OFF:
Supports healthy thyroid function ensuring weight loss can take place
Inhibits carbohydrate usage and uptake forcing the body to tap into fat stores for energy
Increases the feeling of fullness helping you eat less therefore reducing your calorie intake
Increases the number of calories you burn
Increases fatty acid oxidation so released fat is eliminated from the body as energy and heat
The HUGE benefit to Weight OFF is it is helping your body burn fat while preserving your lean tissue (muscle mass).   Muscle is your furnace!   It helps you burn fat when you are  not moving  such as sitting at a desk job.   Also Weight OFF uses the highest quality of natural sourced ingredients.   Also the science backing up the product in based on key research published in peer reviewed human research studies conducted in Italy, France, the US and the Netherlands.
We can all use that extra push!   The founder and CEO of Weight OFF Ryan Foley is a firm believer that a proper diet and exercise are key in losing weight and this is also Alive Health Centre + chains belief, but supplements definately help get the job done faster.   When you start seeing results you want to continue eating well and exercising.   The key is to use a reputable product such as Weight OFF.
As always thank you for reading and we look forward to helping you further at a location near you!   If there is not a location near you don't forget you can call us toll free for more information and we do mail orders.   Right now it is our Winter Flyer Sale and Weight OFF is in there.   Sale ends January 31st!
Call 1866 499 9546