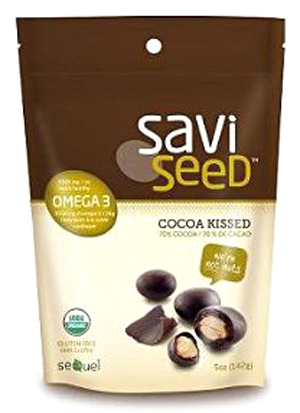 Savi Seeds by Sequel are toping the list for being the king of seeds!   Even Dr. Oz is raving about them.   They are filled with Omega's, proteins and much much more!   They are a perfect way to get a healthy snack in, your kids will love them and there are three different flavours to choose from (coco, salted and caramel)!
While I was pregnant I carried a bag with me in my purse where ever I went.   It was a fantastic way to maintain blood sugar, eat healthy, reduce cravings for sweets and it has 13 times the omega 3 than salmon!   So I am hoping for a very smart daughter!   Remember that omega 3's are filled with the essential fatty acids EPA and DHA.   EPA is fantastic for inflammation and healing, while DHA is the brain food.   Helps the fetus brain development and reduces chances of ADD and other concentration/mood disorders.
What Are Savi Seeds? Where do They Come From?
When we say SaviSeed, we mean premium, organic sacha inchi seeds – the super food of the ancient Inca peoples. Not just your average seed, sacha inchi seeds are native to the Amazon rainforest and have been cultivated and consumed for centuries in Peru under the name 'Inca Peanut'. SaviSeeds are the fruit of sacha inchi plants, herbaceous vines that produce star-shaped green pods which yield edible seeds – SaviSeeds. Our premium SaviSeeds are sustainably and organically grown and proudly produced in partnership with indigenous Peruvian farmers.
Details: Nutritional Value
SaviSeeds are rich in nutrients – making them a healthy but indulgent snack. Here's why they are called a superfood:
Omega 3
Sacha inchi seeds are the richest source of Omega 3 on the planet! At 7000mg of heart-healthy Omega 3 per one ounce serving, they offer 13 times more Omega 3 than an ounce of wild salmon – without having to deal with unpleasant fishy flavors and aftertastes!
Protein
SaviSeeds are an exceptional source of plant-based protein with 8 grams of complete protein per ounce – more than most nuts and seeds. This highly digestible protein is very useful in tissue regeneration and muscle development, and it's easily digestible… no irritation, gas, or acidity.
Tryptophan
This ancient food source is also a particularly abundant source of tryptophan, an amino acid that can help promote a positive mood – containing about 29 mg of tryptophan per gram of protein, which is more than 8 times higher than roasted turkey.
Antioxidants
Sacha inchi seeds have a high concentration of powerful natural antioxidants like Vitamin E, which helps to ward off cardiovascular disease and cancer by protecting cells from the damaging effects of free radicals.
Gluten-free
All those with gluten intolerances and allergies can also enjoy this nutritious and yummy snack! SaviSeeds are tested and approved to meet international guidelines for gluten free status.
Fiber
A mere one ounce serving of SaviSeed will easily provide you with 5 grams of dietary fiber, which is 20% of recommended daily intake.
Certified Organic
SaviSeeds are organically certified by the US Department of Agriculture (USDA), meaning that no chemical fertilizers, synthetic pesticides or herbicides are used during production. Precautions are taken even during transportation and storage to avoid cross contamination between organic sacha inchi and any crops that may not be organic.
Flavours
So next time you are in the mood for a healthy alternative, pop into an Alive Health Centre, Morning Sun or Supplements location and think SAVI!   And when you are looking to describe them remember that they may look, smell and taste like nuts, but they are seeds – sacha inchi seeds to be exact and they have 13 times more Omega-3 than wild salmon, they are also packed with complete protein and taste amazing!   As always thank you for reading!
For more questions or to do a mail order call us toll free at 1866 499 9546