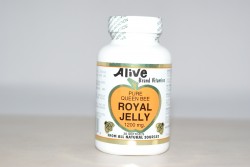 People always want the ultimate supplement to take.   Having a balance is key, but if you are just looking for something to get you started Royal Jelly may be the answer.  
Main Benefits:
Great for hair growth

Enriched with B-Vitamins and amino acids

Enhances mood

Great for energy

Helps reduce hair loss

and much more…
Royal Jelly: What's all the Buzz is about? First of all, Royal Jelly is not the same as pollen or propolis. It's a secretion from the glands in the heads of the worker bees which is then fed to the Queen continuously and the Worker larvae are only fed 3 days. The Queen Bee is fed large quantities of Royal Jelly and she ultimately  lives 4-5 years.   The Worker Bees are  fed with pollen and honey and they only  live  6 weeks. Why? The Secret is Royal Jelly. The Queen is the most energetic and the most remarkable insect in the insect kingdom.   Most of us are in search of doing everything we can to live long, be energetic, healthy, youthful-looking, and be nutritiously fed.   Essentially we are all striving to be the Queen Bee!
As always thank you for reading and if you have any other questions feel free to ask me.   Also we look forward to helping you at a location near you as well.