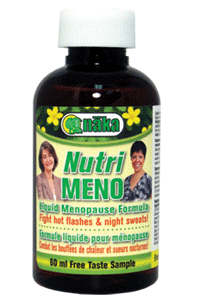 Fight hot flashes, night sweats, disturbed sleep, forgetfulness, irritability and other menopause symptoms with Nutri Meno and you will win!   Nutri Meno is in liquid form providing you with the highest absorption!   If you hate swallowing pills, this tasty berry flavor has come to your rescue.   There is no need to suffer any longer: red clover, black cohosh, gamma-oryzanol, maca, sage, chaste tree berry and schizandra is your natural formula that will set yourself free from menopause.      
How the ingredients work: the red clover contains isoflavones, which get rid of hot flashes, gamma-oryzanol supports the adrenals and reduces anxiety and maca is one of women's favourites, it is excellent in providing energy and a healthy libido.
Below is the link for more information on Nutri-Meno:
An estimated 3 million Canadian women (1 in 6) will reach menopause over the next decade. In fact, these women will spend half of their adult lives in menopause. Whether this time of great change in a woman's life is experienced as a welcome transition into deep maturity, or dreaded as a slippery slope towards old age, depends on how well she avails herself of the tools available in nature's pharmacy…  
 (Click on the link below for more information)
http://www.lholmesassociates.com/newsletters/naka/archive/naka_1008.html
As always, thanks for reading!   For more information look for a location near you.   We are always glad to help!   Hope you have a wonderful rest of your summer.