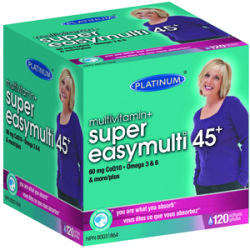 Rolls Royce of the Multi Vitamins! Platinum Super Easy Multi 45+ Men & Women
Using the award winning OSTâ"¢ (Omega Suspension Technology), a process that fully suspends active ingredi ­ents in Omega Oils, Platinum Easy Multi is easier to swallow, digest, absorb and more stable in a liquid soft gel. Super Easy multi Plus contains a powerful combination of antioxi ­dants proven to fight age-related degenerative diseases and reverse the signs of aging from inside out. These antioxidants help to neutralize free radicals, unstable atoms that cause damage at the cellar level, ultimately causing the body to age. This is not your average medio ­cre multivitamin, this is the ultimate multivitamin designed specifically for HIS and HERS. Men and women are made up differently and thus demand different formulations and Platinum Naturals has answered. Additionally it is no secret that in your 40's is a good time to start thinking about taking CoQ10 and Hawthorn Berries to protect the heart and Platinum has it. You wouldn't want to buy a house with a faulty foundation. Don't let your health slip through the cracks, you are covered with Platinum!
DECOâ"¢ By Platinum Naturals NEW! Dark Chocolate Menopause Relief!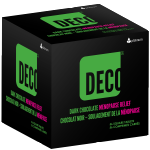 Solving Menopause has never been so enjoyable & easy!! DECO™ Menopause Relief by Platinum combines the benefits of cocoa with Eucommia and Mung Bean to combat some of the vasomotor symptoms and side effects of declining estrogen levels in menopausal women. After menopause, the risk of cardiovascular illness increases as the body's production of estrogen declines. Another major side effect of lowered estrogen levels are hot flushes, which are experienced by up to 75% of North American women during peri-menopause and menopause. In a recent trial, menopausal participants measured vasomotor symptom improvements using DECO™ Menopause Relief: 67% reported an improvement in hot flushes and 58% reported a reduction in night sweats. Also available is Adult DECO™ Dark Chocolate Multi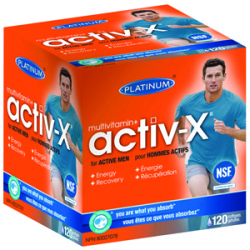 Energy, Focus & Stress Reduction! Platinum Activ-X Multi Men & Women
Certified for Sportâ"¢ by NSF International. FREE of Banned Substances! You work hard, you play hard and you train hard! You constantly raise the bar. You need every advantage you can find to push your body and your mind to new limits, you NEED ACTIV-X. This multi contains a unique blend of anti ­oxidants, omega oils and adaptogens in addition to essential vitamins & minerals using the Omega Suspension Technology to maximize absorption in a soft gel. Added adaptogens give athletes or high stress individuals the boost they need to improve physical & mental performance. Separate formulas for men and women. Parents, if you are sending your kids off to university for the first time, Platinum Activ-X has every ­thing they need to help them focus and EXCEL in school. This formula is not just for athletes, but for people who are studying, active and in need of sustained ENERGY.
We hope that you will come and visit us at either Alive Health Centre, Morning Sun or Supplements Plus. Do not sit in silence; there are so many things you can do to better your health! Get excited and take charge of your health. Let's work together, along with your doctor to ensure you are doing all you can to lead a happy and healthy life. Our team looks forward to helping you with what ever your health concerns are.
DISCLAIMER – Note, the information contained in this website is not intended to diagnose, treat, cure or prevent any disease and is not meant to replace the advice of a qualified healthcare professional or practitioner. The information provided on this site is for informational purposes only and is not intended as a substitute for advice from your physician or other health care professional