ASK Alice Explanation Featuring Bryce Wylde 2013 Spring FLYER – My Statusâ"¢ Testing
There is only so much room for the ASK Alice Column.   Here is more explanation as well as answers to questions you may have.   For example: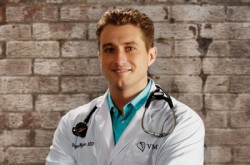 Who is Bryce Wylde?
What are MY Status Test Kits?
How do  I purchase test kits so I know my vitamin levels?
WHO is Bryce Wylde
Bryce Wylde is a worldwide expert in complementary alternative medicine, respected natural healthcare clinician, and regular guest expert and contributor on the Dr. Oz show as well as the Marilyn Denis show in Canada. His company, Wylde on Health Inc, was established to educate and empower consumers to make appropriate educated choices in the realm of natural and alternative therapies.
The alternative health and supplement world is riddled with junk science which fuels Worldwide Alternative Health Expert Bryce Wylde's top priority: to 'debunk the junk'.
After joining forces with world class CLIA certified laboratories, Wylde About Health has created a line of test kits called MyStatusâ"¢. These test kits provide consumers the power to discover personal levels of vitamins, minerals, antioxidants, hormones, toxins, brain neurotransmitters, and much more. In a multi-billion dollar supplement product industry, its time consumers knew whether a natural health product was really working while discerning safety, effectiveness, and of course whether to spend hard earned dollars.
WHAT Are "My Status" Kits?
The MyStatusâ"¢ test kits gives the consumer, the power to learn more about their personal health status. The MyStatusâ"¢ test kit results generate suggested custom supplement plans which detail only those things you require in order to help prevent the onset of disease and better manage your individual health concerns. The MyStatusâ"¢ line of test kits cannot diagnose a disease, but do diagnose deficiencies to help prevent disease.   The kits collect your levels through testing your saliva and urine.
Price Ranges for My Status Testing Kits BELOW
NOTE: If you wish to  purchase kits you can find them on Bryce's website: www.wyldeabouthealth.com/mystatus
Steps for purchasing My Status Kits:
Go to Bryce Wylde's Website,
Resister for an account,
Purchase your desired kit and enter PROMO Code: CXVAU
Follow the collection instructions i.e. urine or saliva,
Lab results will be posted in your personal account online,
You now have the knowledge of what you are deficient in and what supplements you need; come see us at a location near you!
IMPORTANT: Don't forget to use the PROMO code when purchasing  your kits. Enter Promo Code CXVAU to receive an additional 10% discount and for your chance to win a year's supply of your choice of any Ascenta Product.
Hormones
Neurotransmitters
Vitamins
Kits
| | | |
| --- | --- | --- |
| Adrenal   Health (#7001) | $177.00   CAD | |
| Female   Cycle Map (#7011) | $381.00   CAD | |
| Melatonin   Rythm (#7033) | $112.00   CAD | |
| NeuroAdrenal-Basic   (#9028) | $371.00   CAD | |
| NeuroSLP   (#9127) | $340.00   CAD | |
| NeuroEndocrine   Comprehensive (#9606) | | |
WHERE To Purchase My Status Kits
As mentioned above, we DO NOT sell the kits in our stores.   We are here to inform you about the kits and to tell you they are available on Bryce's website.   You can learn more about MyStatus â"¢ testing at www.wyldeabouthealth.com/mystatus
WHY Are My Status Kits Necessary?
Message from Bryce Wylde: Some experts say "there is only one major disease and that is malnutrition". In fact, all ailments and afflictions to which we may be genetically predisposed, can be directly correlated to this disease. And, I'm not talking about third world country deficiencies. Indeed, nutrient deficiencies are epidemic the land of plenty.
When we don't get enough B12, we can't assimilate iron properly or make strong red blood cells and we become aneimic. When anemic, we get weak, depressed, and vulnerable to disease.
75% of North Americans take more than one supplement every day. You're probably one of them. But, have you ever wondered what your vitamin or mineral status is?
Appreciating how important these levels are to your health and the prevention of disease, perhaps you've asked your family doctor to check them for you. In our often cumbersome medical system you may have already been rejected. But to no real fault of your GP! Often, a medical doctor won't know what to do with the results. In some cases they won't know how to interpret them. That's because being slightly or very low – or HIGH – for a given nutrient or toxin isn't considered a disease unless of course its an outright deficiency. What we DO know however, is that an imbalanced nutrient status can LEAD to disease.
The only REAL way to know what you need more or less of, is to get tested yourself using the latest available assessment technology.
My company, Wylde About Health, Inc., has, however, made testing your vitamin, mineral, antioxidant, amino acid, hormones, neurotransmitters, and even toxins accessible, easy and convenient so that anyone can understand with real accuracy what their current health status is related to their nutrient status.
SUMMARY
This is an exciting new venture and we will continue to inform you of the developments.   We will eventually be doing a website with Bryce Wylde where we will offter UNIQUE products.   Bryce ALSO has his NEW show coming soon!!   There is lots to look forward to.   Stay tuned for more developments.   If you have more questions, go to Bryce's Website.   You can resister for an account it is free.
You can learn more about MyStatus â"¢ testing at www.wyldeabouthealth.com/mystatus
We hope that you will come and visit us at either Alive Health Centre, Morning Sun or Supplements Plus. Do not sit in silence; there are so many things you can do to better your health! Get excited and take charge of your health. Let's work together, along with your doctor to ensure you are doing all you can to lead a happy and healthy life. Our team looks forward to helping you with what ever your health concerns are.