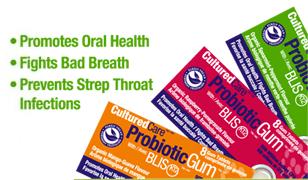 Many people are aware of taking probiotics for your gut and digestive system.   Most people are catching on that a healthy gut often results in a healthy body.   Probiotics are known to help: gas, bloating, regularity, skin and much much more!   However, for immediate care for your oral health, there is a solution through Prairie Naturals Oral Probiotic Gum!   Many people have complaints about sores in their mouth, inflamed gums, sensitive teeth and cavities.   Probiotic gum may be the answer for you!
Chewing just one piece daily of CulturedCare Probiotic Gum with BLIS K12 provides your mouth with the patented probiotic that protects your throat, mouth, nose and ears against infection. Based upon 30 years of research by Professor John Tagg at the University of Otago in New Zealand. Controls and destroys bad breath, sore throats, ear infections, sinus problems and upper respiratory infections. No sugar or artificial sweeteners. Sweetened with xylitol and stevia leaf extract. Organic flavours. Infection protection starts in your mouth.
Sizes: 8 pieces per package
Potency: 500 million CFU
(probiotic bacteria)
Dosage form: Chewing gum
This is just a quick article today.   Hope you enjoyed it! As always thank you for reading and we look forward to helping you at an Alive Health Centre, Morning Sun or Supplements Plus location near you!