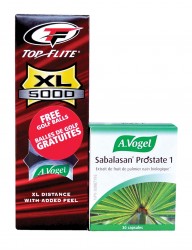 By the age of 50 almost 50% of men experience frequent urintation or symptoms of BPH.   By the age of 80 the percentage of men who experience symptoms of BPH is 75%.   While it is a common problem for men there are natural solutions that are worth trying, such as A.Vogel Sabalasan Prostate 1.   So what is BPH?   BPH is benign prostatic hyperplasia, which simply means that the prostate has become enlarged.   Once the prostate is enlarged it causes great discomfort.   Below are some of the signs and symptoms:
Symptoms of BPH
Frequent urination
Sudden urgencies to urinate
Incomplete feeling after urinating
Weak stream of urination
Stop and start stream
What can A.Vogel  Sabalasan Prostate 1 do for you?   First of all the product is clinically proven to prevent and relieve BPH symptoms.   Men often feel a dramatic improvement in just a few days,  however to  feel the full benefits, it takes about 3 months.   The product is natural and safe.   It uses 3200mg of organic Saw Palmetto.   Saw Palmetto is an extract from the fruit of Serenoa repens.    It is rich in fatty acids and phtosterols.   What is nice is the convenience of the product…just 1 capsule a day!
Alive Health Centre, Morning Sun and Supplements Plus have been selling this product for years with confidence.   We have had great success with customers coming back to tell us how the product has changed their life.   As always we look forward to seeing you soon!