Here is a quick post on a very important mineral…   This tip could be very significant in improving your health.   Hope you enjoy the read!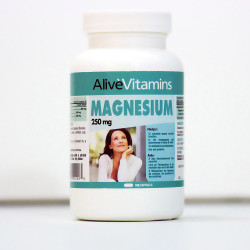 Do you suffer from:
High Blood Pressure,
Fibromyalgia & Chronic Fatigue,
Stress & Migraines?
Alive Magnesium 250mg with Malic Acid is your relief! Magnesium is a co-factor activating over 350 different biochemical reactions. For patients with chronic fatigue syndrome (CFS) and fibromyalgia, magnesium may be the most important mineral according to the CFS Research Foundation. In one clinical trial all 15 fibromyalgia sufferers reported significant lessen ­ing of pain within 24 hrs of taking a combination of and magnesium and malic acid. NPN80039790
If there is not a location near you we would love to help you with a mail order. MAIL ORDER: Toll free 1-866-499-9546
We hope that you will come and visit us at either Alive Health Centre, Morning Sun or Supplements Plus. Do not sit in silence; there are so many things you can do to better your health! Get excited and take charge of your health. Let's work together, along with your doctor to ensure you are doing all you can to lead a happy and healthy life. Our team looks forward to helping you with what ever your health concerns are.